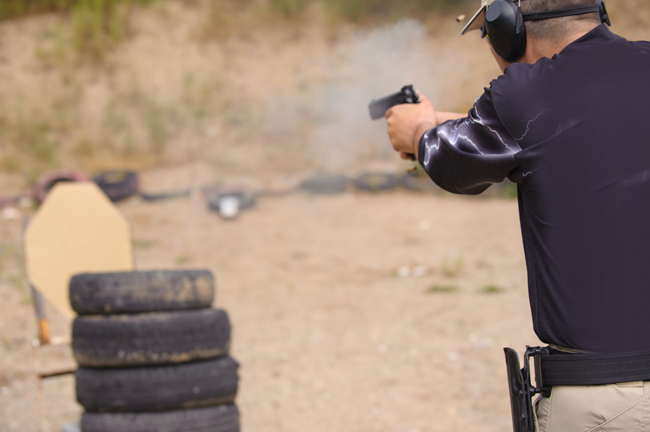 For whatever reason, I grew up hearing the term "double tap" used when talking about shooting …
Maybe it was a bunch of bad 80's action movies, but it was a popular thing back in the day.
My range trip yesterday … and later a conversation with a good friend afterwards … got me thinking about the "double tap" technique and how to shoot faster and more accurately.
What Is a "Double Tap"?
The "double tap" is a shooting technique of mythic proportions that can be defined as such:
"You get ONE sight picture (align the sights on target) and fire TWO shots as quickly as possible."
For most untrained or low-er skilled people, this is usually done without much control.
In other words, they may take a LOT of time aiming the first shot, then as soon as they fire it — they slam their finger through the trigger for the second shot as quickly as they can without knowing where on the target their sights are after the first shot.
Hence the term "double tap".
Over at Gun Nuts they further defined the typical double tap of the typical gun shooter as the "Amateur Hour Double-Tap":
"It's extremely important to differentiate the "Amateur Hour Double-Tap (AHDT)" from controlled pairs and hammers. A controlled pair is two precise shots with two flash sight pictures, and a hammer is a pair of controlled shots with one sight picture. The difference is that you're never out of control of the gun; unlike the AHDT where the shooter really isn't controlling the gun after the first round leaves the muzzle."
I was doing some failure to stop drill practice at the range yesterday at 7 yards (2 to the body, 1 to the head) on a standard IDPA target trying to keep all shots in the "A zone" of the torso and head.
I started REALLY pushing the first two shots to make them as quick as possible and I thought I was getting into "double tap" territory which is typically a no go for training for me.
Why the "Double Tap" is no longer taught by most competent trainers
Firing two shots quickly off one sight picture is not really taught by most competent trainers anymore.
Why? Because …
1. Most untrained or low-er skilled shootes are quite literally out-of-control with the second shot …
2. You don't want to train to ALWAYS shoot ONLY 2 shots. In an actual defensive shooting it may take just 1 … or it may take 10 aimed shots to stop a threat.
3. If you have to shoot more than 2 rounds it turns into spray and pray because you have no concept of how to control recoil, track your sights through recoil, and control the cadence and speed of your shooting. On drills like the 10-10-10 (10 rounds from 10 yards in under 10 seconds) you will find out how much you suck.
4. It's not truly necessary because a normal human can process their senses and sight picture — and shoot with aiming every .25 seconds with proper training — giving you 4 shots in one second if needed.
Thus, it's better to practice aimed shooting and be able to shoot faster or slower as needed — as fast as .25-.30 splits — and then you can make the choice of 1, 2, 3, 4, 5, or even 10 rounds if needed.
It's also worth mentioning, that if you're getting good training for a civilian — in other words, you're only drawing your gun in self defense — then you need to be accountable for every single round that leaves your gun, so it's arguable aimed shooting is all that should be taught/practiced.
Instead, Shoot "Controlled Aimed Pairs" …
The term used for two shots as quickly as possible is "controlled pairs".
What is a controlled, aimed, pair?
Exactly as it sounds it's two controlled shots. What makes them controlled? It's one sight picture, one shot, acquire another sight picture, shot number two, acquire third sight picture, no more shots.
So that's proper aimed shooting, one more sight picture than the number of shots you're shooting. You're seeing your sights through the whole two shots and if necessary you're adjusting your aim.
Again, with practice a person can get their splits way down into the .25-.35 range with controlled pairs.
(I assume that really skilled, high level guys can shoot even faster aimed shots)
Is The Double Tap Ever a Good Idea?
In competition action shooting sports like IDPA or USPSA you almost always have to shoot 2 rounds into a target to "neutralize" it.
For that limited sub-set of shooters, perhaps, the traditional "double tap" is a useful skill to practice for VERY close targets.
I suspect though that most of the champion competition shooters are still shooting AIMED controlled pairs … but … they are just able to see, process, and shoot so much faster than us normal folks that it appears they are shooting double taps without aiming.
It might be a good drill to just work on raw speed …
Compare this speed drill from Champion Shooter Bob Vogel — the Mozambique (aka failure to stop) at 6 feet (2 yards) which he does in an incredible 0.93 seconds which — I would assume — is mostly point shooting at this range with little to almost no visual sight pictures …
To this clearly aimed F.A.S.T. drill at 7 yards (21 feet) run in 4.39 (1.73, .41 / 1.60 / .23, .20, .22) clean. The last three shots are all in the .20 – .25 split range we've been talking about for fast, accurate, aimed fire.
Many lesser skilled folks would assume the last four shots are not aimed, but they ARE aimed because they're all in the 8″ circle A zone of the body of the target … they're just really fast because Vogel is so skilled.
My advice? Push the envelope, but try to get better at aimed fire and you will start to see your aimed pairs get faster and faster … closer targets will be shot faster because you need a less precise sight picture … and the further targets will take a little longer, but your speed will improve at both.
What about you? Do you still practice "double taps"? If so, why?