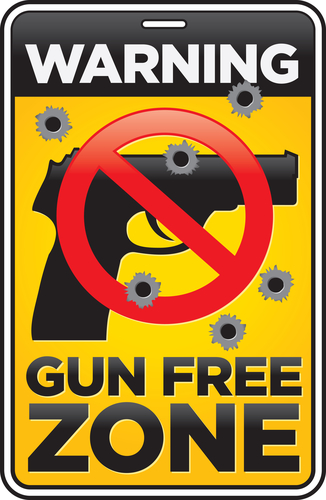 "Gun Free Zone." That phrase gives a sense of calm and reassurance to anti-gunners everywhere. Unfortunately, it also gives a sense of calm and reassurance to would-be mass shooters, too. Why? Because they know that no one will be shooting back at them.
It would seem to be obvious logic to anyone with any intelligence and sense of perspective on the issue, but sadly that isn't the case. That's why it's worth reviewing again. John Lott Jr. writes,
The media bias on this is overwhelming. Even after President Donald Trump again raised the danger of gun-free zones, the news media still refuse to mention this fact in its reporting of mass shootings. The attack earlier this month at Borderline Bar & Grill occurred in a gun-free zone. Unlike in 39 states, concealed handgun permit holders in California are banned from carrying permitted concealed handguns into bars. The mass shooting Monday at Chicago's Mercy Hospital & Medical Center in Bronzeville was at a place where law-abiding citizens were banned from having guns.

Most gunmen are smart enough to know that they can kill more people if they attack places where victims can't defend themselves. That's one reason why 98 percent of mass public shootings since 1950 have occurred in places where citizens are banned from having guns.
On the flip side of the issue, where law-abiding private citizens are carrying firearms, they are able to prevent situations from getting worse. Again from Lott:
The national media tend to ignore case after case of mass public shootings being stopped by armed private citizens. Just a couple of days before the synagogue shooting in Pittsburgh a concealed handgun permit holder stopped an alleged killer who was shooting blacks at a Kroger grocery store in Louisville, Ky.
You didn't hear about that last situation, did you? No, because it was stopped by a private gun owner, but you hear all about the horrible shootings that occur in gun free zones.
It's time that people wake up: Gun free zones aren't safe for everyday citizens. They are only safe for criminals. Want more safety in our country? You can start by getting rid of gun free zones.