The Cold Steel Recon 1 was first introduced quite a few years ago…
The basic knife back then was your usual black-on-black folder. I liked it then, but over the years, Cold Steel has really beefed up the model, making it heavier, thicker, and stronger…
The result is a great all-around daily carry knife that, while not small or subtle, is strong, powerful, and shows good fit and finish.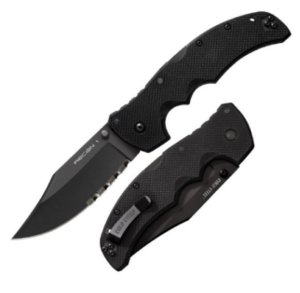 Here are the stats (from Knifecenter):
Blade Length: 4″
Blade Thickness: 3.5 mm
Steel: AUS 8A coated in Black Teflon
Weight: 5.3 oz
Overall Length: 9 3/8″
Handle Material: G10 (5 3/8″ length)
The pocket clip on the Recon 1 is a little small for so large and heavy a knife, but I actually like that, because it helps the knife to ride low and appear unobtrusive.
The G10 handles are aggressively textured, providing a firm grip, and the scallops in the handle scales really fit my hands well.  This is a blade that just kind of locks into your mitt when you grab hold of it.
The Recon 1 is one of my favorite blades for working what's called pattern drills (you'll find more on pattern drills as a paid up 3-Percenter Report subscriber!).  The generous clip-point blade has good belly for slicing and slashing, and the point is nice and sharp for deep penetration on thrusts.
The lock might look like a traditional rocker-bar lock, but this is Cold Steel's Tri-Ad lock.  It operates like a rocker-bar lock but has some added features for greater strength and security.
Say what you want about Cold Steel, its marketing, and Lynn Thompson, its often bellicose owner, but the company prides itself on the strength of its knives and you can generally count on a folding Cold
Steel knife to stay open when you want it to.
This is a great all-around EDC for both self-defense and general utility. It also isn't terribly expensive. That puts it within the reach of just about anyone.
If you're in the market for a great knife, you should pick one of these up right away. You can click here to see the reviews for it on Amazon and pick it up at a decent price.