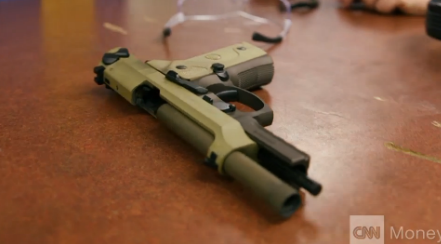 We can't say for sure that Beretta will win the contract to supply the Army with newly redesigned pistols, but we now know that Smith and Wesson's revamped M&P is out of the running. Even though Beretta is the only company with a chance, it's possible that the Army rejects all applicants and starts the process all over again.
Here's what morons over at CNN money has to say about it:
Amazing that CNN didn't call it a high powered assault rifle. Of course, the first thing that sticks out to them is that it's a different color, who cares? The higher magazine capacity and "sand-proof" magazine are actual enhancements, but keep mind this isn't the Army's new pistol. We really don't know for sure what additional enhancements were made to the M9. The Army is trying to replace the M9 with something better so some minor changes to the magazine and the addition of an accessory rail might not be enough.
This is a huge decision:
The contract could be lucrative and long-lasting. Beretta has sold at least 600,000 of its M9 pistols to the Army over the past 30 years. The previous supplier was Colt, which had provided sidearms to the Army since the 19th century. Colt's M1911 semiautomatic pistol was standard issue through both World Wars and up to 1985.
Yeah, it's kind of a big deal. It's also pretty disappointing that the vast majority of companies didn't even compete due to the insane cost of the trials. It looks like a modified M9 is going to win and we'll update you as soon as we know for sure!