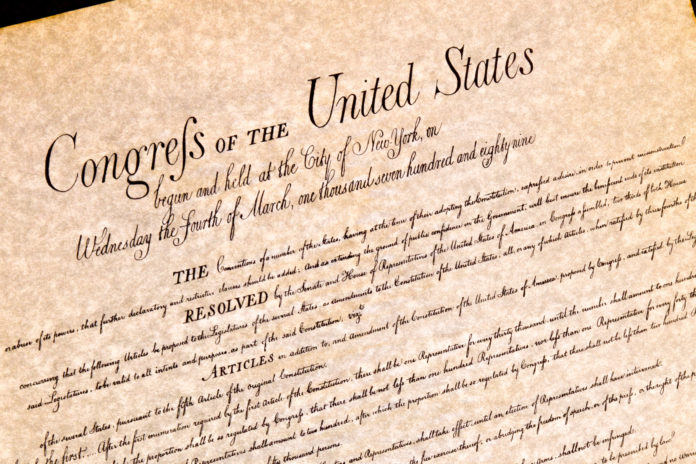 Well, this is disturbing.
It appears that Oregon governor Kate Brown believes that she can abolish both the 2nd Amendment and the 14th Amendment in her state. Now, since you're reading this site, I'll assume that you are familiar with the 2nd Amendment's declaration that Americans have the right to bear arms. If you're not familiar with the 14th Amendment, it is the amendment which states that, among other things, no "state [shall] deprive any person of life, liberty, or property, without due process of law." In other words, the government (including state governments) cannot take your stuff without going through the legal process of finding you guilty of a crime.
Apparently, though, Oregon Democrats (this was a Democratic bill) believe that they are above the Constitution. Ethan Sabo writes,
This new anti-second amendment law allows all officials in the state of Oregon to order the removal of guns from the possession of free individuals. There is no evidence that is needed to perform the confiscation. The gun owner isn't given a hearing until after.

Worse yet, the only way for the gun owner to get his gun back is to file a case and prove his innocence. Yes, this is guilty until proven innocent. It is unconstitutional in more than one way. If we keep ceding our rights, we won't have any left.

It's also a direct violation of the 14th amendment. This amendment gives everyone the right to a formal hearing before his or the tyrannical government steals her property.
This is complete and utter tyranny! And it's just going to lead to theft until someone in Oregon has the guts to fight this law by suing to have their guns returned and taking this outside of the anti-gun legal system in that part of the country. This could mean taking it to the U.S. Supreme Court.
That will, unfortunately, be expensive and time-consuming. And, until that time, Oregon gun owners will be under threat of the whim of a hostile government who is more concerned about their misperceptions of reality than about people surviving an encounter with a violent criminal.
Frankly, if you live in Oregon, you may want to consider moving because, I'm sorry to say, this one isn't likely to be resolved quickly.