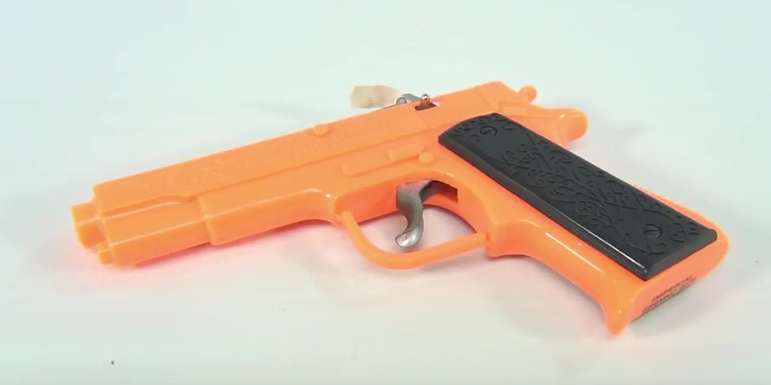 It must be a great gig to be a progressive blogger who writes about guns.
Wanted:
Leftist blogger who knows nothing about guns. Must have great imagination to make up facts and false narratives. You will be given a pre-employment test to assess your lack of knowledge, candidates who pass will be deemed overqualified. You must be passionate about issues you know nothing about and driven to remain ignorant.
I'm really only half kidding here, check this article out, from gizmodo.com:
[quote_box_center]
Conservative news orgs like the Daily Caller and Fox News are currently reporting on Chicago's toy gun ban and the fact that Amazon won't ship toy guns to the Windy City as though it's a new thing. But it's not. There are a host of cities and states that have passed laws over the years making it illegal to sell toy guns that don't have a large orange stripe on the barrel. New York City has banned realistic-looking toy guns since 1955.
So why are organizations like Fox News focusing on Chicago? Probably because Chicago has an alarmingly high homicide rate, and their boy Trumpy wants to save the day with his version of "law and order."
[/quote_box_center]
Uhhm, maybe conservatives are making fun of Chicago for enforcing dumb laws because, you know, the city council just started enforcing a dumb law! Lot's of conservatives ripped on those other cities when they passed or enforced dumb laws too.
Gizmodo continues:
[quote_box_center]Interestingly, one "law and order" measure that Chicago used to have was a complete ban on handguns. But that ban was lifted in 2010, when the Supreme Court ruled in McDonald v. City of Chicago that the city's handgun ban was unconstitutional. And Mr. Trump has made no mention of wanting to fight for its reinstatement. The ban on toy guns hasn't made it to our highest court yet.[/quote_box_center]
Right, crime was higher during that ban. Lots of experts agree the ban did nothing to stop gun crime. Even many progressives readily admit that the law didn't work. Some liberals try to excuse it's failure because the rest of country didn't follow suit, but nearly everyone admits city wide gun bans don't work. So, if banning real guns is stupid, just imagine how dumb banning fake ones is.
The article ends with this line:
[quote_box_center]Unfortunately, the cities of the United States are only good at regulating the sale of fake guns, not real ones. [/quote_box_center]
Actually, liberal cities and states are quite good at regulating the sale of real guns. Some cities like Chicago and D.C. had total bans for many years. Buying a handgun is more difficult in the State of New York than it is in many European countries like Germany.
California, Maryland, Connecticut, Massachusetts, and New York already have extremely heavy regulations that are about as onerous they come.
Don't you wish you could get a job where you are required to be incompetent? It must be a dream to work at Gizmodo.com. Just write random stuff, as long as it feeds into a dishonest liberal narrative they'll pay you.