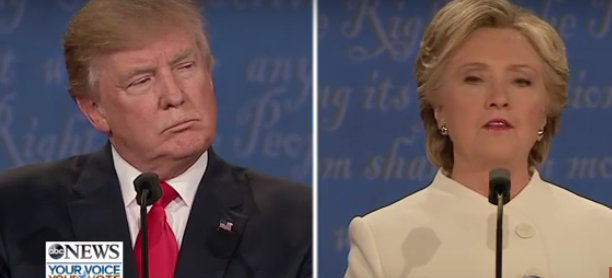 Hillary was allowed to trot out blatant lies about gun control because Donald Trump lacked the knowledge to stop her. Hillary claimed that she supports the second amendment while simultaneously supporting the legality of laws that prohibit self-defense and make ownership of virtually all handguns illegal.
Hillary claimed that she wanted to overturn the D.C. v. Heller case because the case prohibited a "common sense" law that kept guns out of the hands of toddlers. Hillary failed to mention that the law required all guns to be lock up in a manner where they would be totally unusable for self-defense, even if no toddler was in the house. The law banned all handguns, even if their was no toddler in the house. Hillary literally made up the toddler excuse, but Trump was unable to pounce on her because apparently the only thing Trump knows about the Heller case is that Hillary doesn't like it.
Watch Hillary get away with rhetorical murder below:
Could Trump be anymore frustrating? He refuses to learn a damn thing. How many times has he met with the NRA? He still doesn't understand what the Heller case was all about?
Hillary can get away with opposing a case that declares the Second Amendment as an individual right and at the same time claim she supports our right to bear arms.
You can't get angry at all the low information voters in major cities who will vote against your right to bear arms this year. If the only information I had to go on was the debate, I would think that Hillary was being totally reasonable. Neither Trump nor the mainstream media could refute her. A lot of urban residents don't care enough about gun control to research it on their own, you can't blame them for getting snuckered by Hillary and the media. We need a nominee who understands the issue, Trump simply doesn't get it.