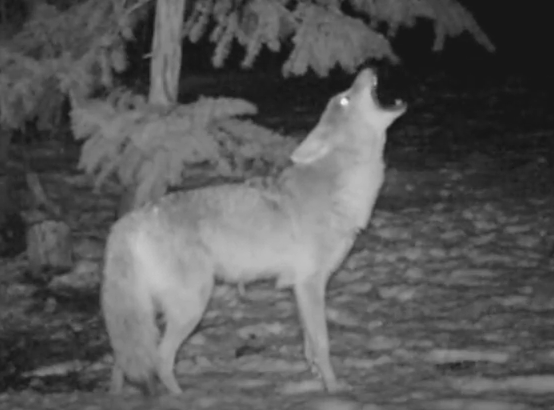 It's largely a localized problem, but predators do wreck havoc on the deer population. Coyotes effect deer herds the most by killing fawns, but deep snow can also result in reduced herd numbers. That's because the coyotes can better ensnare their prey with the snow to bog them down. If the coyotes are killing half or more of the fawns, wildlife biologist recommend that action be taken.
Predation problems are worse in the Southeast, American Hunter explains why:
[quote_box_center]
So why the high predation rate in areas of the Southeast? Habitat might be the answer, as much of the areas being studied have been pine plantations. These areas often have little undergrowth beneath the trees. The pines are also planted in rows, which makes it easy for coyotes to walk the rows looking for fawns. (Anyone who has trapped coyotes will tell you coyotes love to walk on paths.)
What all the deer managers agree on is the coyote is here to stay. Many studies have determined that 75 percent or more of coyotes have to be removed from a population to cause it to decrease; in fact, in a coyote-saturated area, beta males and females actually might not breed unless available habitat with food sources opens to them.
[/quote_box_center]
How many deer can coyotes and other predators kill? Here's some interesting studies on the subject:
[quote_box_center]
Biologists have found that coyotes can be particularly hard on fawns in the Southeast. In South Carolina, for example, a three-year study at the U.S. Forest Service's Southern Research Station, a 300-square-mile area, found that only 16 of 60 radio-collared fawns lived past nine weeks—just 27 percent of the fawns lived that long. Researchers confirmed that coyotes killed at least 65 percent of those fawns and were probably responsible for 85 percent of the fawns killed. Other studies in the Southeast have found predation rates on fawns to be well over 50 percent.
Most other areas of the country don't generally seem to be as affected by coyote predation on fawns.
"Results from several Midwestern and Northeastern studies indicate that coyotes are responsible for taking, on average, 10 to 20 percent of fawns," says Dr. Karl V. Miller, a professor of wildlife ecology and management at the University of Georgia. "This level of fawn predation likely has minimal impact on the overall recruitment rates, particularly in highly productive herds."
A comprehensive study of available research by Duane Diefenbach, adjunct professor of wildlife ecology and leader of the Pennsylvania Cooperative Fish and Wildlife Research Unit based at Penn State, found that in the East "an average of one in two [fawns] survives its first three months of life, which is when most mortality occurs. Predation by coyotes, black bears and bobcats accounts for most mortality."
[/quote_box_center]
On the Macro-level the deer population is abundant (probably over-abundant in the Northeast) and fairly stable. Again, it all depends on where you live. However, localized destruction of herds from predators can escalate quickly, especially in the Southeast. If you didn't bag your deer in South Carolina this year, it might be because Wiley Coyote got it first. Read the entire article American Hunter article here.