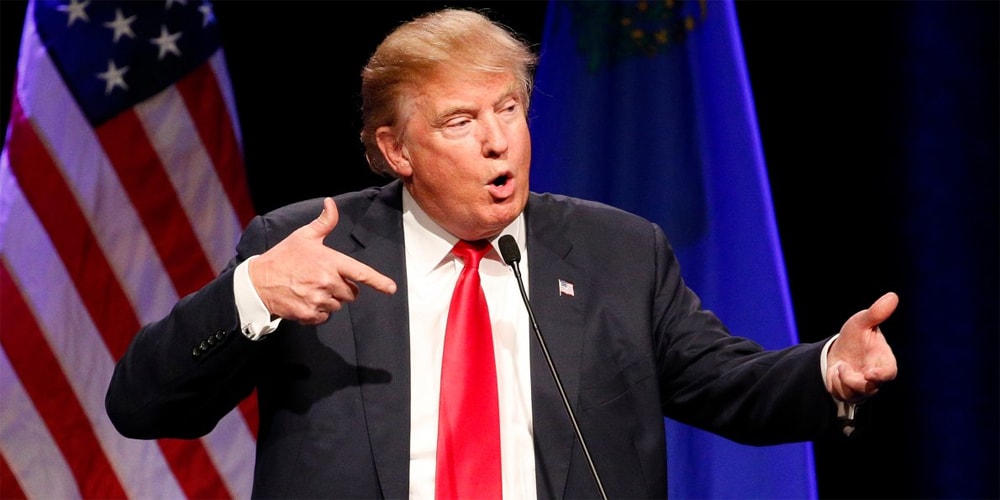 It's all over the news …
And I've heard the same thing over and over from people I know "inside the industry" …
Trump may be the WORST thing to happen to the gun industry in nearly a decade!
What's going on?
Here's the story …
Obama was BEST for gun industry, Trump looks the WORST so far!
If you're reading this, then you probably voted for Trump.
Good for you!
You also might have thought that Trump would be GREAT for the gun industry.
But the fact is, so far, he has been really bad.
Here's the surprising reason why …
Obama Was The World's Greatest Gun Salesman EVER!
You might remember, shortly after the election, I wrote an article called "3 Reasons Why Obama Was The BEST President America EVER Had For Gun Owners!"
I pointed out three facts:
#1: Obama's Anti-Gun Policies Divided The Nation Into Vehemently Pro-Gun & Anti-Gun People
In short, he cured a lot of gun owners apathy.
He got a LOT of us to really care about gun ownership, protecting those rights, and buying more guns.
In fact, he led me to create this website you're reading right now because I was so tired of him trying to ban guns!
#2: Obama Is 100% Certified The Greatest Gun Salesman In The History of The World!
More guns have been sold under Obama than any other president.
Period.
Practically every single month he was in office, record after record was broken in gun sales.
Of course this was mostly because so many people were worried he would ban guns — so we all stockpiled!
#3: Concealed Carry Has Grown More Under Obama Than Any Other President In History!
The bottom line is that — despite his best efforts to stop them — under Obama, right-to-carry laws have benefited to the point where there is NO state in the union that does not have some form of carry law because it was proven that it's a constitutionally protected right.
Even Obama's home town of Chicago, Illinois — one of the last hold outs — has a concealed carry law on the books now that happened during his presidency.
Why Pro-Gun Trump Has Been BAD For The Gun Industry … So Far
You might think, with full NRA endorsement, that President Trump would be great for the gun industry.
To quote the Donald …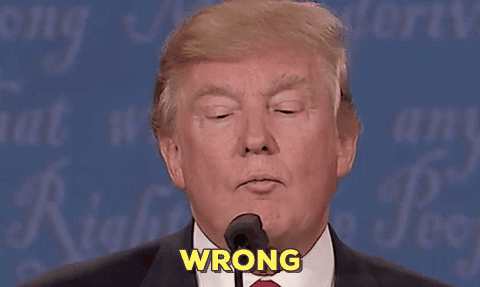 "WRONG!"
1. Gun company stocks have dropped – and stayed down – since Trump was elected.
According to NPR, "… the day after the election shares of gun maker Sturm Ruger fell 14 percent. And the price of Smith & Wesson, which has since changed its name to the generic sounding American Outdoor Brands, fell 15 percent. Shares of both companies are still down"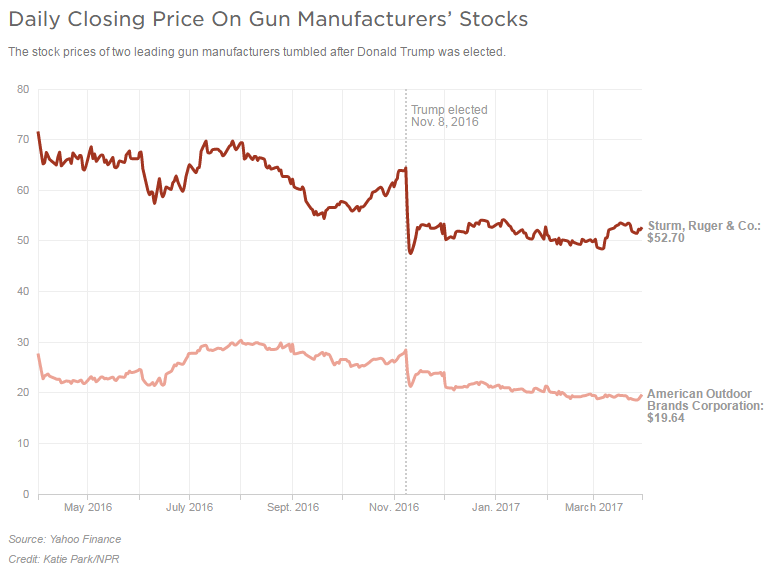 2. Most companies in the gun industry are reporting lower sales (especially AR-15 companies!)
It's estimated that AR-15 sales make up more than 70 percent of the long-rifle sales in the United States (after all, the AR-15 is the most popular rifle in America. Ever.)
But even AR-15 sales are down.
Boutique shop Primary Weapons Systems' sales are down about 35 percent since Trump's election last November.
Other gun companies are reporting the same. Sales are down all around!
3. The Gun Industry is laying off people left and right!
Trump promised to create jobs … but people are losing them in the gun industry!
According to IdahoStatesman.com,
"… Vista Outdoor, which operates Idaho's largest ammunition-making plant in Lewiston, with 1,465 workers.
Vista reported a quarterly loss of $378 million in early March, compared with a profit of $43 million for the same period in 2016, the Lewiston Tribune reported. The company laid off 10 Lewiston workers in February and 15 in March, and it placed about 100 employees on furlough for a month."
And they're not the only ones …
"A Minnesota ammo maker, Federal Premium Ammunition, laid off 110 of its 1,430 workers in March, according to the Star Tribune in Minneapolis.
"Remington Outdoor Co. laid off 110 workers at its New York plant in March, according to The Wall Street Journal."
4. Even Silencer Sales Are Suffering Under Trump!
This one might surprise you, given that there is a pro-silencer bill circulating right now largely due to Trump's election.
But again, it has hurt sales!
In fact, "Silencer sales have dropped off nearly completely, because two federal bills would make it easier, quicker and cheaper to buy sound suppressors, Martinez said. One of the bills is sponsored by Sen. Mike Crapo, R-Idaho.
"Many people in the industry thought one of the bills would pass in the first 100 days of Trump's presidency. That prompted would-be silencer buyers to wait for its passage before buying, Martinez said.
"However, Martinez said there are not enough votes in the Senate to pass either bill. If either survives, passage will take years, he said."
So Is The Gun Industry Going To Fizzle Out Under Trump?
I hope not.
Another problem is that many people think Trump is somehow America's savior and that they don't need to be prepared, buy guns or ammo, or get training anymore.
In the long term …
If the silencer bill passes …
If some type of national reciprocity for concealed carry passes …
Then I think we will maybe see an uptick in the gun industry.
Will it rival the legendary growth under Obama?
I doubt it!
But maybe the shooting sports industry will grow. Maybe more youth will get involved. And maybe more and more people will start to conceal carry under Trump.
My only hope is that a — seemingly — pro-gun President Trump will help to reinvigorate the gun culture in America. In the long run. Because it's not happening now!