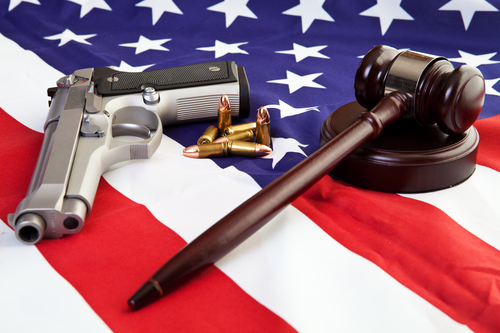 It's simply amazing to me that anti-gun activists believe that people carrying concealed (legally) are dangerous to the general public. Why do I say this? Well, think about it. If private citizens are not to be trusted, then who will keep law-abiding citizens safe from criminals? Who is going to stop violence from occurring?
The only answer has to be law enforcement officers.
So, what's the problem with that? Matt Agorist explains:
If we were to believe the rhetoric that more people carrying guns would lead to more crime, there would be a correlation showing an increase in crime among concealed carry holders. However, a study conducted by the Crime Prevention and Research Center, which examined these numbers, found the opposite.

What's more, not only are concealed carry permits not committing the crimes the anti-gun crowd would like us to believe, but the study found cops are far more likely to commit crimes than permit holders.

According to the study, "permit holders are convicted of misdemeanors and felonies at less than a sixth of the rate for police officers."

"With about 685,464 full-time police officers in the U.S. from 2005 to 2007, we find that there were about 103 crimes per hundred thousand officers," CPRC President John R. Lott Jr. calculates, which he noted is admittedly low due to under-reporting. "For the U.S. population as a whole, the crime rate was 37 times higher—3,813 crimes per hundred thousand people," he noted.

However, these "crimes" for average citizens are things that police officers will not arrest each other over and often times can get away with. Moreover, as we have shown, police officers have a far greater rate of domestic violence and sexual misconduct than the average population.

But looking at the sample of concealed permit carriers, their crime rate dwarfs that of police. "Between October 1, 1987 and June 30 2017, Florida revoked 11,189 concealed handgun permits for misdemeanors or felonies," according to the report. "This is an annual revocation rate of 10.4 permits per 100,000."

"In Texas in 2016 (the last year for which data is available), 148 permit holders were convicted of a felony or misdemeanor—a conviction rate of 12.3 per 100,000," according to Lott. "Among police, firearms violations occur at a rate of 16.5 per 100,000 officers. Among permit holders in Florida and Texas, the rate is only 2.4 per 100,000."
Think about that.
Now, I'm not suggesting that most law enforcement officers are criminals (I know several, and all of them are good people who want to do the right thing). That doesn't change the fact, however, that being in law enforcement doesn't mean that person is suddenly and magically turned into a moral person. It just means that they have a firearm and, too often, a cover for their crimes as they are less likely to be convicted than the average person.
Show these statistics to your anti-gun friends. The fact of the matter is that the people willing to go through the legal process to get a firearm are also more likely to want to use those firearms for non-criminal reasons (i.e., self-defense and recreation like hunting and target shooting). If anti-gunners want a safer world, then they should support and encourage people who are gun owners.