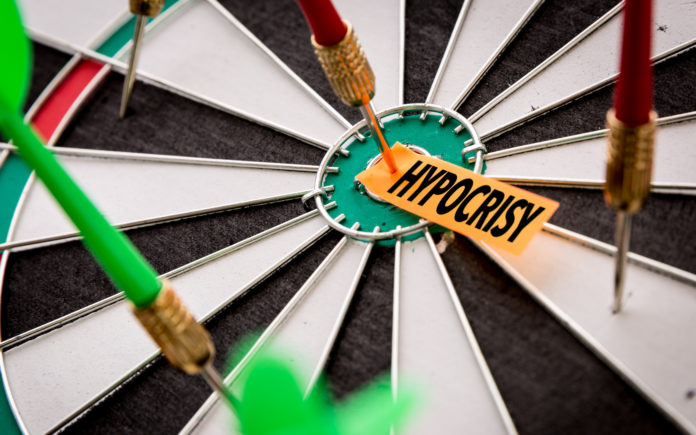 Hypocrisy is disgusting. I think we would all agree that people should seek to live up to their professed ideals, and, while none of us are perfect, we want to at least see some effort to live up to those ideals.
But, it seems, anti-gunners don't have any interest in living with integrity, at least not those in Hollywood. See, like the very definition of hypocrisy, Hollywood anti-gunners say one thing and, then, do something completely different [hat tip to here for the lead]. Christian Toto gives writes,
Hollywood declared war on American gun culture in 2013 with a public service announcement calling for stricter gun control in the wake of the Sandy Hook Elementary School shooting.

Now the industry is back on the attack in the wake of the Feb. 14 high school shooting in Parkland, Florida. Stars including Oprah Winfrey, George Clooney and the cast of ABC's "Modern Family" support this month's March for Our Lives rally for stricter gun legislation.

Yet a study by the Parents Television Council shows that portrayals of gun violence on television have increased dramatically in recent years, even in shows deemed appropriate for children.

The entertainment industry's love of gunplay and hatred for firearms muddles, if not negates, Hollywood's role in a constructive conversation on the Second Amendment.
It's utterly appalling what these baffoons keep doing. The seem to have come to the conclusion that the fact that they are in front of a camera somehow gives them some kind of deep insight into human nature and how to solve the world's problems (the very same delusion that they often blame Donald Trump of suffering from).
Yet, the fact of the matter is that these ignorant people keep calling for gun control instead of actually analyzing why gun violence happens and why it happens more often in some areas than others (gun free zones, anyone?).
These hypocrites need to get down from their soapboxes and actually learn about what they are talking about before they talk about it. Instead, almost everything that we get from Hollywood about gun violence is ignorant people demanding stupid "solutions" which only make situations worse.