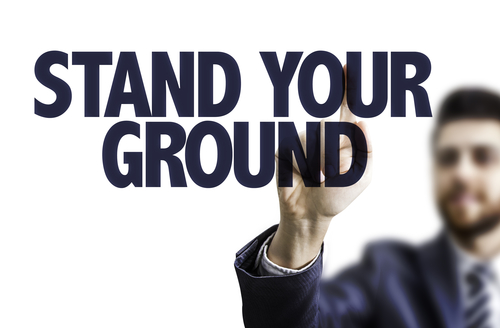 Sadly, in our day and age, there are some people who think that gun rights are a racial issue (as in "against minorities"). Even worse, some of those people are legislators.
Take, for example, an Arkansas state legislator named Stephanie Flowers. John R. Lott, Jr. writes,
Arkansas state Senator Stephanie Flowers captivated the international news media with her fiery attack on "Stand Your Ground" legislation, which guarantees the right to defend oneself without retreating as far as possible. Author Joyce Carol Oates took inspiration from Flowers' comments, lauding her as "astonishing/courageous." Actress Sarah Silverman hailed her as a "hero," saying that her "face should be on money." Other women took inspiration from her refusal "to be silenced, intimidated, or victimized by the systems that govern our societies. Especially to women who come from historically traumatized, disenfranchised, & dehumanized communities."

Flowers was very upset by "how many black kids, black boys, black men are being killed with these Stand Your Ground defenses that these people raise, and they get off."
You might think that Flowers has a point, and it's understandable that she is concerned about people being killed. The problem with her thinking is that she is flat out wrong.
First of all, gun control in America was implemented as a racist policy to prevent newly freed black slaves from being able to defend themselves when attacked. In fact, civil rights leaders like Martin Luther King, Jr. supported gun rights (see this article here).
The second problem with what Flowers had to say is that stand your ground laws help law-abiding African Americans, too. Lott continues,
But she misses the fact that innocent black victims use Stand Your Ground laws in their defense. After all, poor blacks who live in high-crime urban areas are the most likely victims of crime. Unless police happen to be around, they have to try to protect themselves. Having to retreat as far as possible can make this more difficult, and such a requirement disproportionately impacts blacks. Most important, letting people defend themselves actually deters murder.

Florida is one state that has very detailed data on the races of those who have used Stand Your Ground defenses. Blacks make up 16.7% of Florida's population, but they account for 34% of defendants who invoke the Stand Your Ground defense. Black defendants who invoke this statute are actually acquitted 4 percentage points more frequently than white defendants who do so.

The Tampa Bay Times collected 119 cases, from 2006 to October 2014, in which people charged with murder relied on Florida's Stand Your Ground law. Seventy-six percent of the black defendants had killed other blacks. Most of the people who were acquitted of murdering a black person were themselves black. About 64% of blacks who raised the Stand Your Ground defense were not convicted, compared to 60% of whites.
So, here again, we have another example of an anti-gunner (who is, sadly, a legislator) who is dead wrong about how to empower minorities and increase their safety.
Gun rights and stand your ground laws help minorities. They don't hurt them.