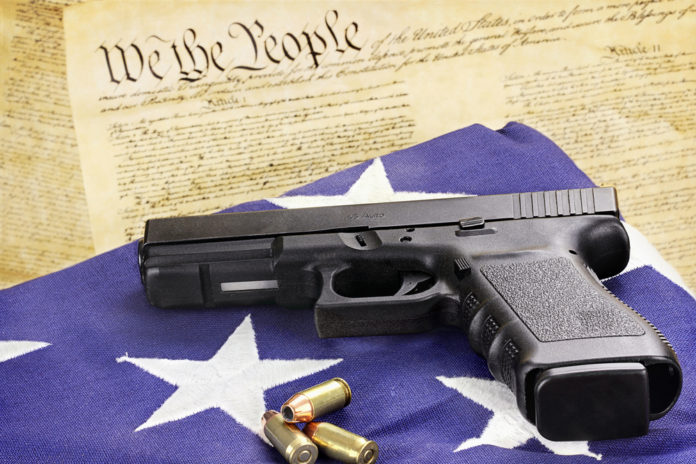 If you watch the news at all, the assault on gun rights in America by anti-gunners is reaching a fever pitch with screeches that can almost make your hair curl. Sadly, some states have bought into gun control nonsense hook, line, and sinker and have gone off of the deep end.
Fortunately, though, legislators and other government officials in some states still have their heads screwed on straight and are seeking to do the right thing for Americans and gun owners in particular. One state with some of those folks who think straight is Missouri.
Jordan Michaels gives us details about proposed legislation in Missouri to nullify all Federal gun control laws (hat tip to here for the lead). Yes, all of them. Michaels writes,
The Show Me State has made headlines in recent years for its aggressive support of Second Amendment rights, but the legislature is now considering the ultimate protection: nullification. The Missouri legislature has reintroduced a bill that would nullify all federal gun control laws within the state and bars state agencies from employing any federal law enforcement official who tries to enforce said laws.

The Missouri House and Senate passed a similar piece of legislation in 2014, but then-Democratic Gov. Jeremiah Wilson "Jay" Nixon vetoed it. Now that a Republican holds the governor's mansion in Jefferson City, Missouri may well become the first state to bar enforcement of laws that restrict its citizens' gun rights.
According to the Second Amendment Preservation Act, "All federal acts, laws, executive orders, administrative orders, court orders, rules, and regulations, whether past, present, or future, which infringe on the people's right to keep and bear arms as guaranteed by the Second Amendment to the United States I and Section of the Missouri Constitution shall be invalid in this state, shall not be recognized by this state, shall be specifically rejected by this state, and shall be considered null and void and of no effect in this state."

The bill's authors point out that even though the state governments granted supremacy to the Constitution, respect for the federal government does not require "unlimited submission." The bill specifies in detail all the types of federal laws and statues that will be null and void within Missouri's borders and takes thinly veiled shots at NFA tax stamps and firearms registries.

All kinds of federal gun control laws will be void […].
Now, that is "common sense" gun legislation. Protecting the rights of Americans to defend themselves is fundamental to the rights to life, liberty, and the pursuit of happiness, so this is the kind of gun legislation that we should be fighting for in every state.
Sadly, this kind of legislation wouldn't even get out of committee to come up for a vote in many states, so if your state is one of those gun control zones, Missouri may be a place to consider moving to.