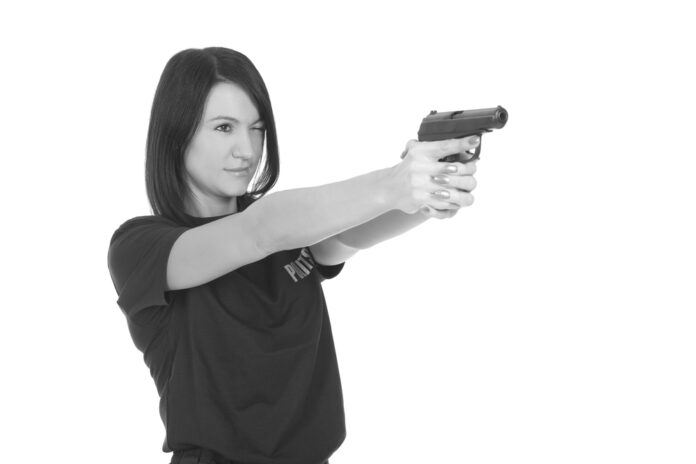 One of the more bizarre ideas that keeps getting pushed by anti-gunners is that stripping Americans of their right to bear arms will somehow mean that certain groups, such as women, will be safer.
Of course, both history and statistics viewed from an unbiased viewpoint show this simply isn't true. In fact, I'll go so far as to bluntly say that gun control is anti-woman. Period. End of discussion.
But, in case you think that I'm just some kind of misogynist, I should point out that I'm not the only person who believes this to be true. In fact, a writer going by the name Mom at Arms (what a great pen name!) writes,
Here we are, though… Women's History Month 2021, and every single gun control law they're considering are another limitation on the civil cights that women and minorities, not too long ago, acquired. Rather than giving women more education and opportunity to advance in their freedoms, gun control organizations like Moms Demand Action for Gun Sense in America, Everytown for Gun Safety, The Coalition to Stop Gun Violence, etc… (who are all funded by rich white men, btw) under the guise of social justice, have worked hard to limit women's rights even more.
Mom at Arms continues:
GOING BACK TO THE OPENING OF THIS ARTICLE, DURING THE YEAR OF THE WOMAN, DOMESTIC VIOLENCE CASES INCREASED DRAMATICALLY DURING THE CORONAVIRUS PANDEMIC. MANY WOMEN AND MINORITIES BECAME FIRST-TIME FIREARM OWNERS, WITH MORE IN THE MAKING. THESE INCREASES ARE PRETTY COMPELLING EVIDENCE THAT PEOPLE ARE, INDEED, ATTRACTED TO THE IDEA OF PERSONAL PROTECTION DURING TIMES OF CHAOS AND CRISIS.

SO, IF A WOMAN WHO IS IN A DOMESTIC VIOLENCE SITUATION (ESPECIALLY A BLACK WOMAN), HAS HAD ENOUGH… AND FINDS SOME COURAGE TO CALL A GUN TOTING, "EXTREMIST" FRIEND FOR SOME ADVICE, AND MAYBE EVEN TO BORROW A FIREARM UNTIL SHE'S SETTLED, SHE NOW HAS TO GO THROUGH EXTENDED METHODS OF VALIDATION, AND WAIT EVEN LONGER, JUST TO ACQUIRE PROTECTION FROM HER ABUSER. ALL OF THAT, IN TURN, WOULD MAKE ANY ABUSER ECSTATIC (BECAUSE THE GOVERNMENT WILL HAVE ULTIMATELY LIMITED THE ABILITIES OF HIS VICTIM TO PROTECT HER (OR HIM) SELF. SADLY, THERE ARE WOMEN OUT THERE, LIKE SHANNON WATTS AND HER "MOM ARMY," (WHO ARE CLOSELY AFFILIATED WITH THE WOMEN'S MARCH), THAT ARE EMPOWERING DOMESTIC ABUSERS, STALKERS, SEXISTS, ETC.. BY MAKING IT HARDER FOR THEIR POTENTIAL VICTIMS TO BECOME EDUCATED ON THEIR RIGHT TO SELF DEFENSE. AS THEY CAPITALIZE OFF OF TRAGEDIES INVOLVING FIREARMS TO MAINTAIN THEIR STATUS QUOS AND POWER, THESE GROUPS OF ELITIST WOMEN, SLOWLY ETCH AWAY EVERY ADVANCEMENT IN THE RIGHTS OF WOMEN AND MINORITIES IN AMERICA.
My entire argument here, which is supported by Mom at Arms, is not hard to understand. The argument is this: when someone takes away a woman's ability to protect herself, it is an anti-woman position. Thus, because guns are one of (maybe the) most effective equalizer between an aggressor and a woman, stripping gun rights from people strips the ability of many women to be able to defend themselves from harm.
The conclusion is clear: gun control is anti-woman.