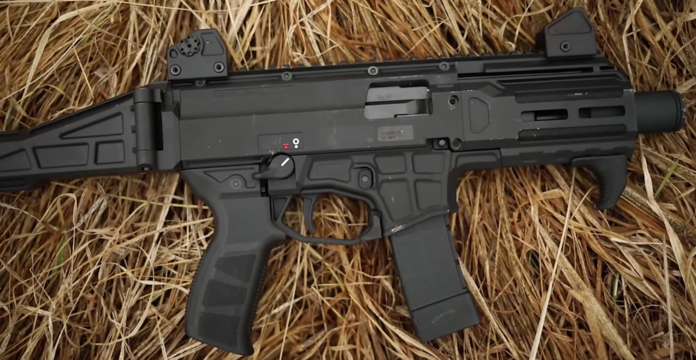 There is a conflict going on in the thinking that gun owners have to go through when it comes to buying a(nother) firearm: what size does it need to be?
Now, if you're not familiar with firearms, the difficulty of answering this question may not be immediately understandable. The difficulty comes in because pistols are both easier to carry and to conceal than longer firearms. On the flip side, though, a longer firearm (meaning one with a longer barrel, and usually also having a stock) allows for better accuracy over distance (making it easier to take care of the threat from 50 yards, if possible, than at seven yards) and more powerful ammunition (the gun's stock isn't just for looks: it's to protect your wrists and hands from recoil, too, if you were firing a high caliber ammunition).
So, there's always the trade off: ease of carrying and concealability vs accuracy at distance and power.
This difficulty is one reason that some firearms manufacturers create guns that seem to be a type of hybrid between the longer guns and pistols. That's what CZ may have been trying to do with their newly redesigned Scorpion 3+ pistol (which seems to think that it's a carbine, stock and all). A writer going by Matt E gives us details on the specs of this model:
The new Scorpion 3 Plus is an improved generation compared to the first and second-generation Scorpion models. When first looking at the new 3+ model, you start to see there were a number of cosmetic changes as well as control changes to improve the overall experience for shooters.  The most noticeable change is the overall lower frame design which matches its big brother, the Bren 2. In addition to the frame change, CZ also changed the pistol grip position and safety selector so it won't rub your hand at all when firing. The other large change from the previous generation is the inclusion of an AR-15 style magazine release and new magazines. The 3+ magazines will fit in previous generations but the older style mags will not fit in this Scorpion 3 Plus.

Currently, the Scorpion 3+ comes with two 20-round magazines that are black instead of the translucent magazines that shipped with previous variations. For the Scorpion 3+, CZ has started to include robust metal iron sights on every model as well as a Magpul hand stop as standard. Apart from the cosmetic changes and the switch in controls, the Scorpion action largely remains the same as previous models. The old magazine release is now a bolt release with a separate AR-style magazine release. Currently, the Scorpion 3+ is shipping out to dealers and is available now. MSRP on this little guy is $1,299.
Matt E's overall thoughts are that, while he would have preferred cartridges compatible with the previous Scorpion model, "I really like the changes CZ decided to make on the new Scorpion and I think they add up to a better shooting experience."
So, if you're looking for something that, with the stock, feels somewhere between a pistol and a carbine, CZ's Scorpion 3+ may be one to consider.