I've been researching a lot of scary things about the U.S. dollar recently…
For example, we all know that the dollar's worth a lot less than it used to be.
But what most people don't know is that the dollar has lost a whopping 98% of its value since the Federal Reserve was created in 1913.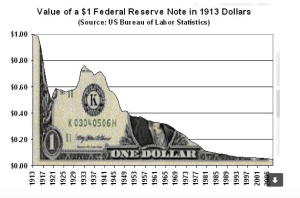 And now we're seeing a lot of very smart analysts predicting that the dollar is about to be replaced by a new world currency.
Added to all of this is that the financial markets have been bouncing around like a yo-yo recently – up and down, up and down. It sure seems like something's going to melt down. And soon.
So I'd like to show you a simple alternative to making sure you're safe in a meltdown …
If you're like most people, you probably haven't given much thought to what would happen when a financial collapse happens and the banks are closed and the ATM shuts down.
Of course, financial collapse will quickly lead to social collapse. People won't be happy when you take away access to their money.
What are you going to do when you go to the store  (while it still has food) and you have to pay with cash because the electronics are down and they don't take debit or credit cards?
Have you ever seriously thought about this scenario?
REAL Money …
It is always a smart idea to have a small stash of gold and silver on hand. Something that's real currency. Something that can't be destroyed by the the federal reserve.
So what does that entail?
First, you have to actually buy some gold and silver…
[Editor's note: The Hard Asset Alliance is the best place we've found to easily buy, take delivery, or store your precious metals. Click here for an excellent article from the Hard Assets Alliance on why Silver is a "no brainer" investment.]
If you're taking delivery of your metals (which I HIGHLY suggest you do so that you have easy access in times of a crisis) then you NEED a safe.
Smaller safes can be purchased at such places as a home improvement store.
Safes are heavy so I would not suggest ordering one off of the internet unless you want to pay more in shipping that the safe itself costs. (I will say that if you have Amazon Prime, you can get away with getting a safe and not pay for shipping!)
Larger, heavier safes can be bought through a gun dealer or sporting goods store.  A lot of times they will deliver it to your house (for a fee) and set it up in your house.
There are also smaller fireproof lockboxes which you can use as well to store important documents, etc.  But to keep anything of value such as money, you probably want a larger safe.
(So you know, getting a huge, fire-rated safe for all your guns that aren't being used for home defense will also work well for storing gold & silver).
Look, recently some countries have had runs on their banks or the banks have closed.  There have also been instances where the bank went directly into people's accounts and took their money.
Yes, it's true!
Do some research and you will see the areas where this has occurred (YES, even in this modern day and age).
It never hurts to have cash on hand when you are thinking about surviving disasters…
But investing in gold and silver is a must do for anyone that's serious about surviving long term. I'd suggest staying with the 1 ounce gold and silver American eagles.
Yes, you'll pay a slightly higher premium for these coins. But they're easily sold and exchanged everywhere across America (unlike some foreign gold coins, for example.)
Although the 100 ounce bars don't have much mark up, they're going to be tough to use in a survival situation. But they're great if you're just holding on to your gold as a store of value against the dollar.
Either way, make sure to take delivery of your gold. And this is where a safe comes into play.  Anything of value to you should be stored in a safe.  Safes are not easily stolen and deter a would-be thief if you happen to not be around.
All of these are personal choice items and not necessities — but our philosophy is to be safe (no pun intended) and not sorry.