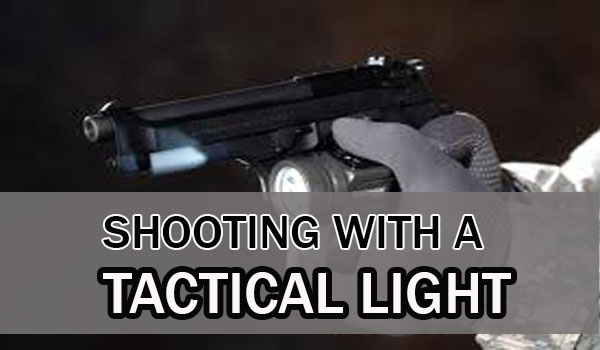 Shooting in the dark is never a good idea because it's too easy to hit something you don't want to.
There's stories every year of a father who kills a family member because he thought it was a bad guy breaking in his house. In short, you always want to be able to identify your target, before it's time to shoot.
That's where the tactical flashlight comes in.
You've probably seen tactical flashlights on some cop show. They'll be looking through a dark building and have their lights mounted to their guns. Just so you know, that's the wrong way to do it.
Oh, there's nothing wrong with having a light mounted to your gun, the problem is keeping it on while clearing a building. That just makes you an easy target for the bad guys to find.
There are two basic ways of using a tactical flashlight with a pistol. 
The first is to have the light mounted to the gun and the second is to hold the light in your support hand. Having tried both, I prefer having a gun mounted light, as that gives you the best control over your gun. However, you have to have a light with a momentary switch to do it right. Plus, because it's attached to the gun, you have to point the gun at anyone or anything you're trying to illuminate (which could be an innocent person).
The big problem with using a tactical flashlight with a gun is the same problem that exists with flashlights in any tactical situation; it tells the enemy where you are long before it tells you where they are. So, it's not a big win to use one.
On the other hand, if you don't use one, you may not be able to accurately identify the bad guys and separate them from the good guys. So, you should have one and be ready to use it.
There are several different ways that have been taught for holding the light in your support hand, but one of the most common is to hold it with the lens at the pinkie and the switch at the thumb, crossing the wrists so that the support hand can provide some support to help steady your gun.
The idea here is that the light and the gun's muzzle move together. That way, you are always pointing your gun where you are looking. If you get a chance for a shot, you won't have to move the gun to line it up, because you'll already be lined up.
Other techniques for simultaneously holding the flashlight and your gun are beyond the scope of this article because …
The real trick behind using one is to use it momentarily. 
In other words, you flash the light on, lighting up the room for less than a second and take a "snapshot" in your mind of what's there. Then, you immediately move, quickly, before anyone who saw your light can shoot you. That's important, as the bad guys probably won't be as concerned about hitting an innocent as you are. The faster you move away from that spot, the better. Don't wait to process the image you saw.
Once you've processed the image, you'll know which shadows represent the good guys and which ones represent the bad guys. Hopefully, they will be far enough apart that you can get a shot, without putting the good guys at risk. If they are close together, you might have to use your light again.
Hopefully, you've got tritium or some other type of night sights on your pistol. If you do, then you don't need to use your light again, assuming you have a good idea of where everyone is. You can line up the shot using just the sights, without giving your new position away again. Tritium sights glow in the dark, so you can shoot as long as you can identify the target.
I want to stress again the importance of clearly identifying your target. 
Never make an assumption.
If you aren't sure, then use your light; that's what you have it for. Better to take another look, lighting up your flashlight again, than to take a risk of hitting a family member because you're not sure.