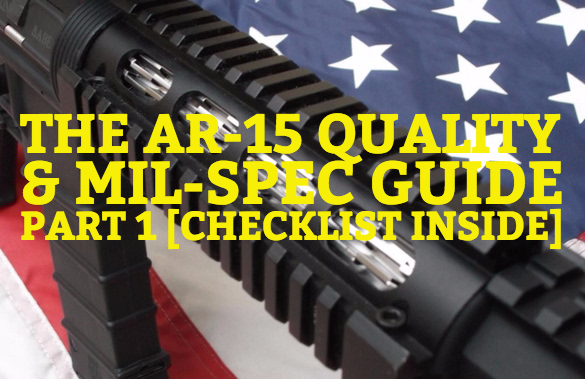 In part one of this series, I explained the importance of "Mil-Spec" and why it's the minimum standard you should look for in an AR-15.
Then, we talked about how the Bolt Carrier Group (BCG) is the "heart" of the AR-15 because it's so important to the proper functioning of the rifle.
Well, if the BCG is the heart of the rifle then the barrel is the … well I don't have any great human anatomy analogies… but it's arguably just as important to the functioning & reliability as the BCG is.
Plus, it's super important because of a whole 'nother reason — it's where the bullet actually flies out of gun which means it's your number 1 part to be concerned with for accuracy!
So let's talk about AR-15 barrels and how to find the right blend of accuracy, reliability, and functionality today …
What should you look for in a barrel?
Here are the most important parts of the milspec standard you should look for in an AR-15 barrel:
*** Mil-Spec 4150 Barrel Steel
*** Chrome Lined Barrel
*** 5.56 Chamber
*** 1/7 Rifling Twist
*** M4 Feedramps
*** High Pressure Tested (HPT) barrel
*** Magnetic Particle Inspection (MPI) barrel
Now, first off, you'll see like the Bolt Carrier Group (BCG), you want a quality barrel that has been HPT and MPI tested at the factory.
Then you'll see that there are specifics as to what the barrel is made out of and the coating. Let's talk about that.
First, let's talk about accuracy …
The barrel has a lot to do with accuracy. Depending on what it's made out of, how it's made and how it's coated (or not coated) will determine how accurate it is.
For the purposes of this discussion, we're talking about AR-15 Stainless Steel "match grade" barrels. They're generally considered more accurate. Why?
Stainless is easier to machine because it is a slightly softer metal. It is also easier to apply a fine, hand-lapped finish to a stainless bore. They are generally made with better tolerances and they don't have chrome lining–all of which can help make them more accurate.
With a stainless barrel you should be expecting sub-MOA (less tham 1 Minute-of-angle) groups at 100yds with match grade ammo.
The downside to stainless barrels is that they're not "mil-spec" because they're not made to be as durable and long-lasting as chrome-moly coated barrels.
In short, the only reason to choose a stainless steel match barrel is if you are doing extreme accuracy competition shooting such as benchrest shooting, NRA High Power Long Range shooting or something like that.
Chrome Moly lined, the proven performer …
Chrome lined barrels are proven to be reliable and long-lasting.
You can fire more shots from a chrome lined barrel before they deteriorate and lose accuracy too.
While they're typically not thought of as "match grade accurate" a good shooter, with proper match grade ammo should be able to achieve 1 MOA groups at 100yds with a standard mil-spec barrel. It's been done plenty of times.
In fact, many people feel like "match grade" stainless barrels don't show their accuracy advantage until after 300yds …
Keep in mind, that with standard chrome lined barrels, the marine corp regularly has their men shooting man-sized targets at 200, 300 and 500 yards away. And there are guys that have made hits on man sized targets at 1,000 yards with a milspec, chrome lined M4 barrel and milspec M855 ammo.
In other words, a chrome lined barrel is probably more accurate a barrel and capable of better shooting than you are a rifleman. That's why I'd recommend the chrome lined barrel for most applications, it's accurate enough for almost everyone and proven to be the most durable barrel.
Why a 5.56 NATO chamber?
Because you can shoot both 5.56 NATO and .223 Remington from this chamber. The two types of ammo while very, very similar have different pressures.
If you rifle only says .223 Remington, then you may encounter a dangerous overpressure situation. So get the 5.56 NATO so you never have to worry about it and can shoot all types of ammo safely.
Why a 1/7 twist rate?
You want a 1/7 twist rate, and it's the milspec standard, because it allows you to shoot the widest range of AR-15 ammo, accurately.
In short, a 1:7 twist will allow you to stabilize and accurately shoot all 5.56 NATO and .223 ammo from 55 to 77 grains.
This is important because most "match grade" ammo for the AR-15 is heavier weight stuff, such as the MK262 77 grain OTM that was designed for designated marksman in the military. Also, a lot of hollow point civilian ammo is heavier grain stuff.
Why M4 Feed Ramps?
It's simply a reliability and functioning safeguard. There are no known downsides to the M4 feedramps and it's the MilSpec standard so you should choose it.
And that's about all you need to know for choosing a good, reliable, "Milspec" barrel.
In the next part of this series, we'll talk about some other considerations that you should look for when choosing an AR-15 to protect you and yours.