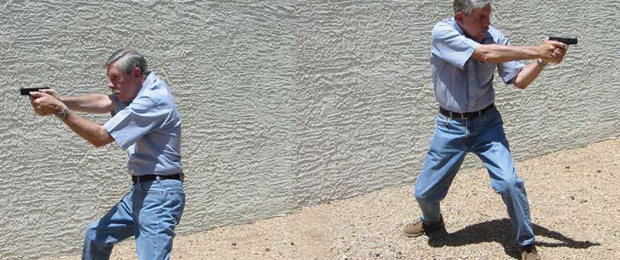 If you've ever done any reading on training with a handgun.
Or you've read anything about combat and self-defense techniques, then you may have come across the "point shooting vs aimed fire" debate.
Essentially, it goes something like this:
Point shooters say that most people won't see their handgun sights under stress so the best way to train is to point shoot because why bother training to use your sights.
The sighted fire guys say that you should always use your sights because accuracy is everything. And that's what the sights are there for.
So who's right?
And how should you train if you want to be able to protect yourself and your family against violent attackers on the streets or even a SHTF scenario?
Let's settle this once and for all today …
Fairbairn, Applegate and Sykes (FAS) Taught Point Shooting In The Early 1900's.
Back in the early 1900's when semi-auto handguns were first developed, there were handgun shooting techniques developed along with them. Point Shooting was one of those techniques.
As Wikipedia explains, "Soon after the creation of the Office of Strategic Services (OSS) in 1942, then Second Lieutenant Rex Applegate was given the task of adapting the training being given to British Commando forces for use by OSS agents. Applegate's methodology was published in his book, Kill or Get Killed which was first printed in 1943, and based on his training program for the OSS developed with William E. Fairbairn and Eric A. Sykes.
"While aimed fire techniques are covered in both chapters, along with topics such as use of cover and different firing positions, the point shooting techniques generally attract the most attention. Much of Applegate's instruction on point shooting involves developing a firm, consistent shooting position that allows the student to consistently hit where he is looking.
"While Applegate did cover firing handguns from the hip (from a position he called the "1/2 hip" position), he was careful to point out that this method only worked on targets at the same level as the shooter, and only at very close range. The preferred method was to bring the handgun up to just below eye level. With the proper grip and a locked elbow and wrist, this will bring the gun to bear on the target."
Handguns Were Usually Fired Using One Hand In These Days
One thing I'll point out is that handguns seemed to be fired using one hand back in these days. In fact, Fairbairn's book is called "Shooting to Live With the One Hand Gun".
The Bureau of Alcohol, Tobacco and Firearms (BATF) still defines a handgun to this day as a gun designed to be fired with one hand. For example, The ATF pistol definition says "... The term "Pistol" means a weapon originally designed, made, and intended to fire a projectile (bullet) from one or more barrels when held in one hand".
This is because the ATF was essentially created during the prohibition era in the early 1900's (around 1920) as part of the "Bureau of Prohibition".
Bullseye pistol shooters from that era (and even today) shoot in a one-handed target aimed style:
And, likewise, point shooting was taught with this one-handed style, often from the hip as well if speed was needed:
Keep that in mind going forward …
The Development of The "Modern Technique" of Pistol Shooting …
Jeff Cooper was instrumental in developing what is called the "modern technique" way back in the late 1950's after WWII and the Korean War.
Again, here's Wikipedia with the story …
"… In 1956, following a career in the US Marine Corps where he served in World War II and the Korean War, and rose to the rank of lieutenant colonel, Jeff Cooper started holding Leatherslap shooting events and established the Bear Valley Gunslingers at Big Bear Lake, California. The initial events consisted of straight quick-draw matches, determining who could draw and hit a target at seven yards the fastest. They were the first matches of their kind, unrestricted as to technique, weapon, caliber, holster, or profession.
"Initially, competitors primarily used some form of point shooting, a single-handed technique with the pistol fired from the hip, that was popular and believed to be the best-suited to the purpose. However, shooters would often discharge several rounds from the hip in rapid succession, but miss the 18-inch balloons seven yards away. One of the early champions, Jack Weaver, switched to an eye-level, two-handed, aimed technique. In his words, "a pretty quick hit was better than a lightning-fast miss."
"Weaver's string of victories, resulting from his new method, influencedadoption of the technique and abandonment of point shooting. Soon, firearms trainers, most notably Cooper, began refining and codifying the concept; the result became the modern technique."
Essentially, the modern technique different because of some fundamental concepts. The important parts for our discussion are putting two hands on the gun, bringing it up to eye level and using the sights.
The key point here is that point shooting fell out of favor with this group of shooting legends because it simply did not work as reliably as sighted fire.
Since this time, around the 1960's, sighted fire as taught in the "modern technique" has dominated because it has been proven time and time again to be faster and more accurate than point shooting.
But If You Can't See Your Sights Under Stress Why Practice Using Them?
The people that advocate point shooting maintain that in a life or death situation you are under so much stress that you won't see your sights.
So, the logic goes, if you aren't going to see your sights then why practice using them?
Even if that were true, there are three main reasons why you should abandon point shooting and practice using your sights.
One, you can learn to see your sights under stress. This has been proven time and time again. The key is to simply practice and practice under stress.
By putting in the reps and practice hours, you'll get better and better at seeing your sights. Jim Cirillo, who was a member of the New York City Police Department's Stakeout Squad (SOU), was forced to kill at least 11 men in the course of more than 20 gunfights during his unit's 250-plus stakeouts in the late 1960's.
Jim said he used his sights whenever he could. In his first and most written-about shootout (his first gunfight), Jim fired six shots in 3-4 seconds against threats with exposed areas no more than 8 inches in diameter at distances of 20 to 25 yards. He reported looking so hard at the front sight of his revolver he could see the serrations in it.
So you can, with enough training, learn to see your front sight under stress. Furthermore, today we have simunitions training and other "force-on-force" ways to train under stress that can get you used to using your sights under stress.
Two, you are building a consistent index every time you use your sights to shoot with your body. You're building neurological connections the more you practice putting the gun in the right spot in front of your face — to use your sights — and it becomes natural.
The correct way to practice is to first look to the target, and actually where you want to shoot the target, and then draw the gun and with enough reps the sights just "appear" where you are focusing with your eyes.
Which leads to the final and third point …
You will be able to point shoot if you practice sighted fire, but not the other way around …
As you might imagine, the practice with sighted fire builds a consistent physical index with your body that happens subsoncsiously.
In fact, if you've practice enough you can usually focus hard on the target you want to shoot, close your eyes, draw the gun and when you open them, you'll be looking at your sights and gun aimed in at the last place you were visually focusing on.
That will all happen without "aiming" the gun into that spot.
Which of course means that if you have to "point shoot" because you're at so close of range you don't have time to see your sights — then you can do it more effectively because you've practiced so many times using your sights.
I found this out at the recent Langdon Tactical class that I took because we did Mr. Langdon's "Close Range" drill which is, as I recall, shot at a distance of only 2 yards. You are VERY close to the targets. This is a drill that teaches you to go "all out" and test your maximum speed — 9 shots as fast as you can get them. The video below explains it and shows Langdon running it at a blistering pace, slightly above 3 seconds …
I was the first to run this drill in our class — and it was my first time ever running this drill — and I ran it in 4.05 seconds if I recall (enough to win the hat for the day). My second run through was even faster at 3.80 seconds.
The interesting part?
I have NEVER practiced "point shooting" (or unaimed fire of any kind) but I didn't really see my sights at all during either of these runs. I was almost totally point shooting because at that distance — about 2 yards — I subconsciously knew that I could rely almost totally on my physical body index led by my visual focus.
What you eventually learn to do with enough practice is you figure out "what you need to see" to get the hits you want at a certain speed. Further distance shots? You slow down just enough to get a more clear, aligned sight picture …
7 yards and in? You get a "flash sight picture" where you see — fuzzily — the front sight anywhere in between the two back posts because you're focused on the targets and you press the trigger. Etc.
In other words, with practiced sighted fire you will develop the ability to point shoot effectively … but … you can't develop the ability to shoot accurately with sighted fire if all you ever do is point shoot.
So the bottom line is, forget about point shooting and practice using your sights, because by doing it that way, if you ever "need" to point shoot, you'll do it just fine.