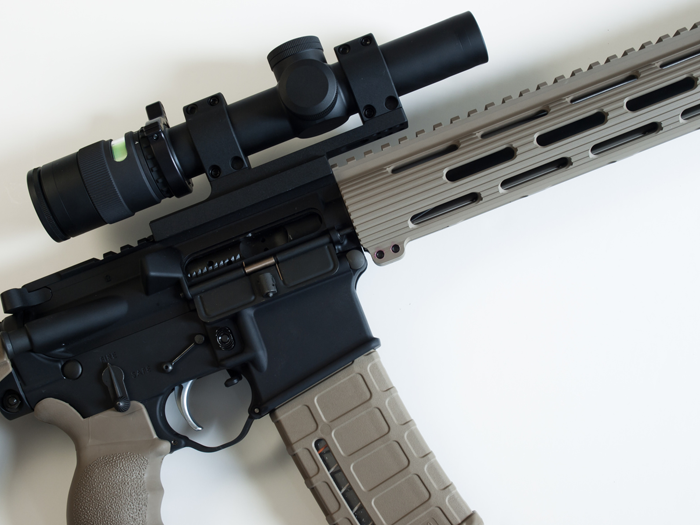 If you would like to setup your AR-15 to perform from 0 to 600 yards — in other words — one rifle for practically everything you need, then this article will show you how.
Call my crazy, but if I'm spending good money on a rifle I want to get the most use out of it.
The fact of the matter is that the AR-15 is way more capable than most people give it credit for … as long as … you set it up correctly.
Here's how to do that:
The 1 Rifle For Everything Concept
This is somewhat similar to the "Recce" concept rifle that the SEAL teams developed …
You want a rifle that's still around carbine size (meaning not too long, no 20″ barrels) for up close CQB work, but still able to reach out and make good hits at distances out to 600 yards (or more) reliably.
In the video below, Frank Proctor, US Special Forces vet and USPSA Grandmaster shooter explains the concept of 1 rifle for everything and his preffered setup:
The Three Keys To Having An AR-15 That Does It All
As you can see, to get the full long-range benefits of a quality AR-15 not much in the way of upgrades is needed — primarily a free floated barrel, a good magnified optic (preferably variable from 1x for CQB to as high as 6x-8x for long range) and good ammo.
At around 500-600 yards the 5.56 is right at the edge of its ballistic effectiveness even though many people have made hits out at further distances — even 1,000 yards — with stock M4's.
Heck, as far as I know the U.S. Marines still make you qualify with a stock, iron sighted M16 at 500 yards so the platform is more than capable at this distance.
Is a Magnified Optic as Fast As a Red Dot For Close Quarters?
The answer, as far as I can tell, is yes. Or at least close enough not to matter too much.
First, 3-gun guys have been running a variable optic setup for this reason for many years now for this very reason. They can smoke the up close targets on 1x power and then quickly get some magnification power — up to 6x these days — for long range targets when needed.
Second, with practice it appears that you can be just as fast as with an unmagnified red dot optic up close with a variable optic.
In the video below Steve of Sentinel Concepts and Jeff of Armed Dynamics compare Red Dots (Trijicon MRO) in timed shots versus Magnified Optics (Trijicon Accu-Power) (warning: NSFW language if you care).
Most of My Personal AR-15's Are Setup This Way
I really think a variable optic has a lot of benefits over a non-magnified red dot and for this reason and as you saw in the videos most of my personal AR-15's are setup this way too.
I like a 16″ free floated barrel, 1-6 variable optic, and good ammo — an AR-15 setup this way can be used for home defense just as easily as trekking through the woods hunting or making long range shots as needed.
What do you think? Do you run red dots on your AR-15's or do you like variable optics too? Or something else?