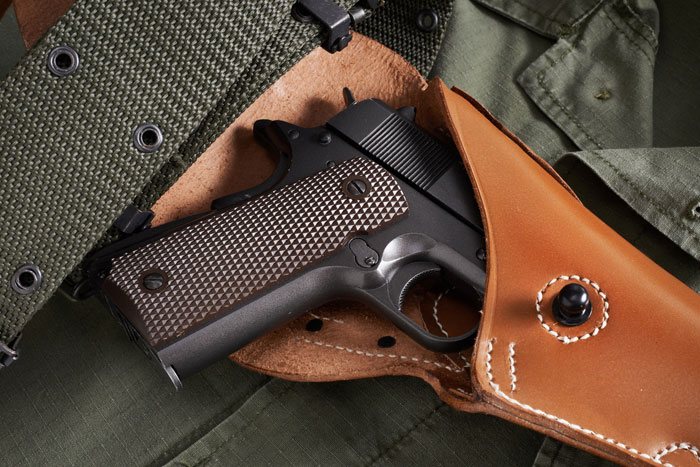 If you've made the decision to start carrying a gun then I applaud you.
You understand that you are responsible for your own safety, and carrying a gun is one of the best ways to protect you and yours.
So you probably bought a nice gun (or grabbed one of the dozens you have in your safe) and you're ready to carry.
So what's the worst thing you can do? To treat your holster as an after thought and either buy a piece of crap or start using something ridiculous.
Some Holsters Suck And Some Don't
It's a fact that some holsters simply are better than others.
And no, this is one of those things that — at a certain point — your personal opinion does not matter.
There are dumb ways to carry a gun and there are smart ways.
It mostly comes down to safety.
Why?
Because we're carrying around a gun to be MORE safe, so you should choose a method of carry that makes it less likely you're going to shoot yourself or something you don't want to shoot by having a negligent discharge.
If you find yourself with one of these carry choices, educate yourself, then find a better carry method for your safety and the safety of those around you.
Holsters That Don't Cover The Trigger Are Dumb
Don't use any of the types of holsters that don't cover the trigger.
ConcealedNation has a good list here:
———-
The Handgun Sling™
Screenshot courtesy of The Handgun Sling™ YouTube video
This thing was featured in a recent article, and the vast majority of the comments have supported my thoughts that were outlined. This concept is essentially a piece of elastic with a rod and a 'coin'. If you want to see how it works, check out this article.
Issues:
No trigger protection whatsoever
No proper retention of firearm
Having to place an obstruction inside the barrel
—————
Versacarry®
Screenshot courtesy of Versacarry® YouTube video
This concept was covered extensively in anarticle of mine a while back, and my thoughts still hold true to this day. What we have here is another method of carrying that is marketed as a minimalist design. However, see that yellow rod in the image above? Yep, that goes inside your barrel. We also don't have any trigger protection on one whole side of the firearm. That's just the beginning. Read all the details in this article.
Issues:
Having to place an obstruction inside the barrel
Trigger guard only protected on one side
Plastic base has been known to break off
Pieces of plastic can strip from rod and end up inside barrel
————————
Clipdraw
Photo courtesy of Clipdraw via Facebook
This minimalistic product is essentially a piece of metal attacked to the back of the firearm via screws. It acts just like a clip on a pen, and is said to keep the firearm in place this way. If anyone ever considers using this, a trigger guard is a must. With this carry method, the entire firearm is 100% exposed. That's scary.
Issues:
No trigger protection whatsoever
Need to modify firearm with new backplate
No proper firearm retention
————
Do Not Carry Outside The Waistband Without Retention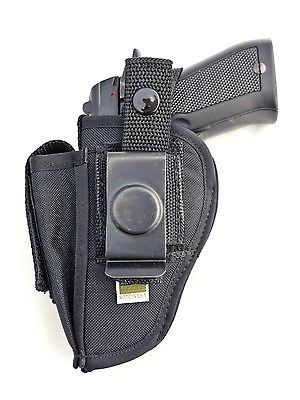 It's really bad when you see people that open carry and use a crappy holster.
Why?
Well, at least with inside-the-waistband carry, you have the additional retention of a belt and your pants to keep your gun secure … and hopefully protect the trigger.
But many people that practice "open carry" use a really crappy, cheap, nylon holster.
These typically have horrible attachment devices that are cheap clips waiting to fall off your pants.
Further, they have no retention. Which means if a bad guy wants to grab your gun out of your holster (one of the downsides to open carry), they can more easily do it.
If you must open carry (and I don't recommend it), then use a retention holster like the Safariland ALS.
Don't Use A SERPA If You Carry Outside The Waistband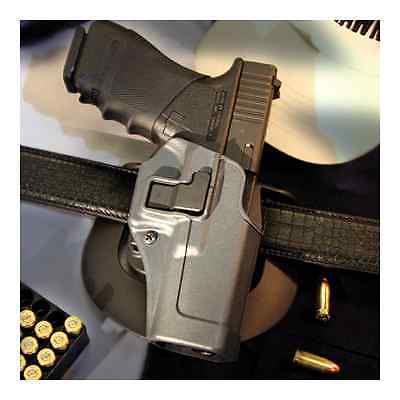 If you carry outside the waist band then you should use some type of retention holster.
The SERPA is the worst choice here because it requires you to use your trigger finger to unlock the retention device, which is WAY too close to the trigger inside the trigger guard.
Your trigger finger should only ever be one of two places when gripping a handgun, at "home" indexed alongside the slide/frame fully outside the trigger guard or "at work" on the trigger when you have your target in your sights and you've made the decision to shoot. It should not be doing other things near the trigger and helping you have a negligent discharge.
There's a reason why this list of trainers and organizations have banned the use of the SERPA holster (hat tip to rational gun blog):
In Conclusion, Your Holster Is Important …
So put some thought into it.
You want a holster that securely holds your gun, but also completely covers the trigger guard for safety.
You also want it to be comfortable (or else you won't wear it!) and fast to access (because you may need to defend your life!).
EDIT FOR PEOPLE ASKING WHAT TO USE:
I make some specific recommendations about both your first holster and your first concealed carry gun should be in this article here: "Choosing Your First Concealed Carry Handgun & Holster (The Short Version). here is the short version:
Get an inside-the-waistband, probably kydex, holster and carry it behind the hip on your strong side (most likely around 3-4 o' clock, figuring out the most comfortable and concealable place on your body behind the hip).
* Appendix carry is also an option, but not until you have a lot of training under your belt and understand the risks involved. 
Stay away from cheap brands like Uncle Mike, Fobus, etc.
While many experts I respect hate hybrid holsters, I carried one for the majority of my concealed carry experience (Crossbreed Super Tuck Deluxe) thus far but I do certainly recommend switching to a better made kydex one at the earliest opportunity.
If you're into leather, then Galco makes the Summer Comfort or the Royal Guard(very respected and been around a LONG time).
If you're into Kydex (I am), then Raven Concealment makes a good pancake style holster. JM Custom Kydex makes an excellent IWB holster as well.
I further recommend an FBI cant for reasons I will explain later, but it makes things better most of the time.