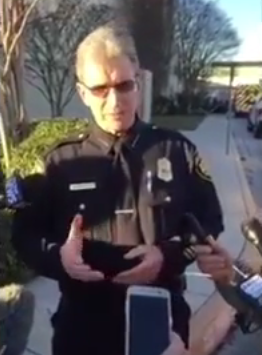 A brazen robbery gone wrong in San Antonio has resulted in several people being shot. While the situation is still unfolding at this point, it has been reported that a bystander with a concealed carry permit shot one of the suspects.
From RedState.com:
[quote_box_center]
After the suspects fled the store, a man, described by McManus as a "good Samaritan" tried to stop the two men.
One of the robbers then fatally shot the man, McManus said.
A second individual, who was carrying a licensed concealed weapon, then shot and wounded the robber who had killed the person who intervened, McManus said.
McManus called the fatal shooting "absolutely senseless." The victim's name was not immediately released by authorities.
The other robber fled the mall, firing his weapon and injuring a man and a woman. These two individuals, along with the injured robber, were taken to local hospital, said San Antonio Fire Chief Charles Hood.
Two other people— a woman who complained of chest pains and a pregnant woman who had labor pains — were also taken to local hospitals, Hood said.
The condition of the people who were injured in the incident was not immediately available.
McManus says police are still looking for the other robber who is believed to have left the mall.
[/quote_box_center]
It doesn't seem like the first good Samaritan who tried to intervene was armed. Tragic that he was killed in cold blood.
Not only did the armed citizen potentially prevented more people from being shot, he also may have sent a chill down the spine of other would be robbers. In a state like Texas, where concealed carry permits are relatively easy to come by, any thug committing murder and robbery in such a public setting should think twice. All accounts at this point seem to indicate that the second robber was firing indiscriminately as he left the scene.
Hopefully no one else dies in the hospital. Six people in total have been shot. The police are aggressively hunting down the suspect at large.