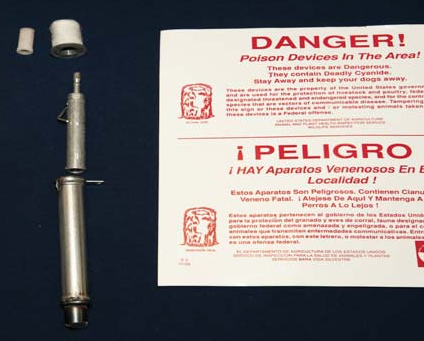 A device designed to kill coyotes, injured an innocent boy and killed his dog. The M-44 "cyanide bomb" sprays lethal cyanide on any victim who springs the trap. This isn't the first time one of these traps has injured a human or a domestic dog, either. Obviously, this incident will impact the practice of using chemical warfare against predators.
Here's the horrible story:
[quote_box_center]
Fourteen-year-old Canyon Mansfield is lucky to be alive. He says, "It would've been clear to see like a wood plank with a sign on it, but there was nothing." Thursday afternoon canyon and his dog Kacey went to play fetch 10 minutes up the hill from their house. Canyon says, "I see this little pipe sprinkler type thing, sticking out of the ground. I reached down and I touched it. Suddenly there was like a pop and orange gas snooze out."
While covered in the unknown orange gas, the Mansfield family learned from authorities it was a cyanide trap, a lethal chemical meant for coyotes. The 14-year-old describes what he saw after cleaning himself off with snow. "I noticed my dog was mumbling and so I walked over and see my dog and having a seizure. I'm freaking out."
By the time, the 14-year-old made it down the hill to get his mom the champion hunting dog died. Mark Mansfield is Canyon's Father. He says, "They're small, and they're lethal. And my son watched my dog die in minutes."
[/quote_box_center]
It's was actually the government that set the trap. The U.S. Department of Agriculture uses the devices to control the coyote population. By simply labeling the device, this accident could have been prevented. Another problem with these traps, is that they don't discriminate. Any animal that set it off is pretty much toast, though canines are most strongly attracted to it. This is where old fashioned hunting comes to the rescue. The public should much prefer sportsmen as a means of predator control, to chemical weapons. Of course, animal rights groups will try to ban all means of predator control, while others will be too generous to the M-44. Like any other dangerous device, caution needs to be taken when these things are deployed.