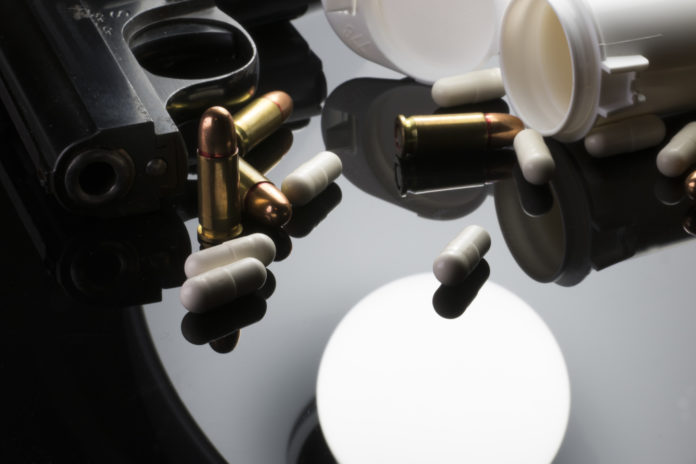 You may have heard news reports about the shooting that happened in Jacksonville, Florida. If you haven't heard about it, David Katz, a twenty-four year old gamer at a competition, lost during the competition and decided to open fire. Sadly he killed two people and injured ten people before taking his own life.
Of course, anti-gunners immediately started screaming for more gun control (never mind that he supported anti-gun candidates politically). All this even though the latest reports indicate that Katz purchased his firearm legally.
But the really scary information is something that the mainstream media isn't talking about. Fortunately, Matt Agorist has the details for us:
Now, we have learned that Katz had been on the types of psychiatric medications known to cause violent thoughts and that are linked to many of the worst mass shootings in recent history.

According to family divorce records, Katz had been in and out of treatment for psychiatric issues since as early as the age of 12. According to a 2006 letter from the father's attorney, as reported by CNN, Katz was prescribed a number of psychiatric medications, including an antipsychotic, and saw "a succession of psychiatrists."

What's more, a separate 2006 court filing states that a therapist said he had experienced a "psychiatric crisis" while prescribed these medications.

On top of the psychiatric crisis and the reported drug cocktail, CNN also obtained police records that show 26 calls for service to the police from the Katz family home in Columbia, Maryland, from 1993 to 2009, for issues ranging from "mental illness" to domestic disputes. At least two of those calls involved Katz arguing with his mother, though none of the reports provided to CNN show any physical violence. The Howard County Police Department declined to release the reports from a number of the incidents, citing statutory restrictions.

David Katz' past is eerily similar to that of Nikolas Cruz, except that his parents were both feds.
This shooting is disturbing enough, especially since Katz had a history of confrontations, but what no one is talking about is that he was on psychiatric medications which, unfortunately, have been linked with other incidents of violence.
So, while anti-gunners want to shout for more gun control, you have to ask yourself why they aren't shouting to take medications off of the market which are repeatedly linked to violence and killing.
Maybe if anti-gunners really wanted to make the world safer, they would focus on what causes the violence and not the tool that so many people use to defend themselves.