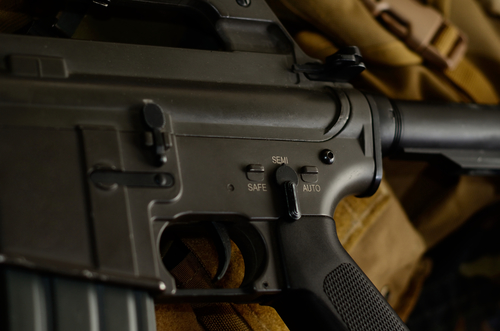 If you haven't been following the ghost gun controversy, regulating these guns has become a thorny situation all around. Why? Because ghost guns are guns that are off of the books. In other words, they aren't registered because they weren't purchased through a licensed firearms retailer which means that they can't be tracked. And, in most areas of the United States, if you make one of these guns at your home for personal use and don't sell it, this is completely legal.
Which drives anti-gunners crazy because they can't keep track of these guns.
Of course, people who support the option of being able to build a ghost gun argue that ghost guns must remain legal because of both First and Second Amendment rights. In other words, your right to get the information on how to build ghost guns is protected by the First Amendment, and your right to have a firearm (yes, even a ghost gun) is protected by the Second Amendment.
But some lawmakers in Connecticut are trying to change that situation, at least in their city. AWR Hawkins writes,
City legislators Jeffrey Stella (D-9) and Rodney Pratt (D-9) in Stamford, Connecticut, are pushing an ordinance to empower police to confiscate homemade firearms from city residents.

Westport News quoted Stella saying:

How can it be OK for people to manufacture firearms without serial numbers? As a police officer and a city representative, I took oaths to serve and protect people. Anybody can make these untraceable guns. I feel that if more towns push to ban them, the people in Hartford will realize this is what the people want.

Pratt described the ban on such guns as "a good starting point toward more common-sense gun laws." He said, "We don't want to sit back and wait for the state."

Notably, untraceable guns were banned federally in 1988, but Stella and Pratt want to ban them again at the city level.

Westport News reported that Stella and Pratt's ordinance would empower police to seize homemade guns from city residents and destroy "unlawful" firearms.
So, two busybodies in Connecticut want to infringe on individual rights because they want to implement "commonsense gun control." Never mind that common sense dictates that the more people who are able to carry guns, the less likely that someone is going to commit violence because they know that it's much more likely that they'll get shot.
But, then again, "commonsense" is incredibly uncommon (completely missing?) when it comes to arguments for gun control.
Side note: The Undetectable Firearms Act of 1988 is a Federal law that "makes it illegal to manufacture, import, sell, ship, deliver, possess, transfer, or receive any firearm that is not as detectable by walk-through metal detection […]." This law does not reference ghost guns which are firearms without serial numbers and has not application to ghost guns with the possible exception of 3D printed guns using ceramic or plastic materials. Which means that the quote from Westport News above is simply another example of (maybe intentional, maybe due to ignorance) the media simply not telling the truth about guns. Again.