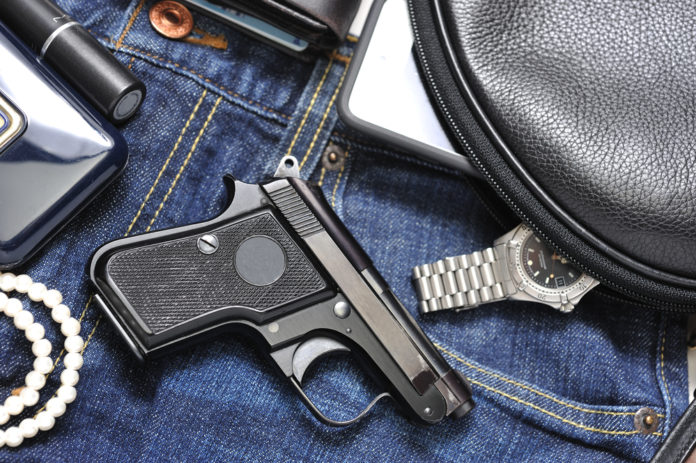 As you undoubtedly know, firearms don't tend to be cheap. Even the inexpensive ones can cost a chunk of change, and, so, if you're like most people, you have to budget for your next firearm purchase.
Fortunately, though, some companies look for ways to make owning a firearm more affordable. Granted, you're unlikely to find some of the nice extras on an inexpensive gun that you would find on a high-end model, but, hey, if you're looking for inexpensive protection, bells and whistles aren't your first concern.
So, if you're looking for an inexpensive concealed carry firearm, Jacki Billings recommends four pistols under $400 for you to consider. They are the Bersa Thunder .380, the Ruger LC9S, the Beretta BU9 Nano, and the Hi-Point C9.
As you likely noticed, the Berson Thunder .380 is the only weapon on the list using .38 caliber cartridges, and, according to Billings it retails for $290. Billings writes,
Designed with concealed carry in mind, the Thunder pairs a lightweight small-frame to the .380 cartridge, which offers little to no recoil. The result? The Thunder proves to be a cinch to manipulate and shoot. During the course of testing, I had no issues with the Thunder firing, feeding or extracting the ammo I fed it.
But maybe you're a 9mm person. Billings notes that "[c]oncealed Carry wise, the Ruger LC9s' small build works in its favor, allowing it to nestle inside holsters easily and efficiently, concealing flawlessly in a variety of outfits."
Or maybe you want an even smaller 9mm. If so, you may prefer the Beretta BU9 Nano which has a 3″ barrel. In terms of its benefit for concealed carry purposes, Billings notes that "[t]he snag-free aesthetic of the BU9 Nano certainly helps it on that draw, keeping the gun from grabbing onto clothes."
Finally, if budget is the ultimate consideration for your next concealed carry purchase, the Hi-Point C9, with it's MSRP of $199 (with a price of $139 for used models), may be the one for you to consider. Now, people seem to love or hate Hi-Point with no middle ground, and this isn't a luxury firearm by any means. Still, it will give you a concealed carry firearm (granted, it's almost 30 ounces, so not gracefully concealed) for an inexpensive price. On it's plus side, though, other than its low price point, the extra weight reduces recoil when fired, and Billings found this surprising benefit:
It may sound like I am dragging the HiPoint design, but actually, I had a blast with the C9. In fact, it was my favorite gun to shoot and I ended up buying one. It's quirky, but there's a certain fun factor to it.
So, which one is the right firearm for you to choose? That's really going to depend on you, your budget, and whether you're willing to pay a little more for a more easily concealed firearm or a pistol chambered in .38.
Still, if you're in the market for an inexpensive concealed carry firearm, any of these four models would be a good starting point for your shopping process.