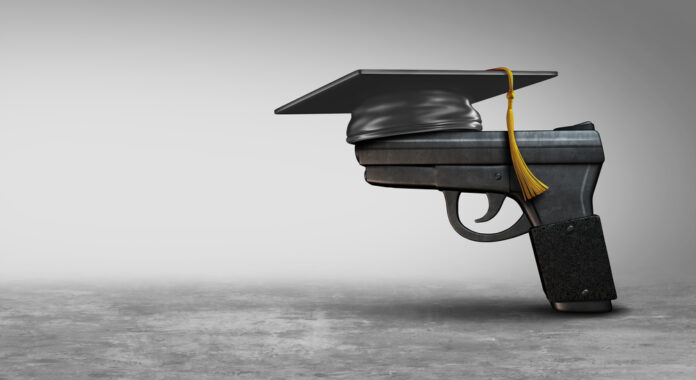 Efforts to reduce gun violence in schools has been a hotly debated topic over the last few years with several of the high profile mass shootings specifically occurring at schools.
Of course, anti-gun politicians want to "combat" school shootings by making schools gun free zones (which they typically are already). In other words, anti-gunners tend to want to double down on a failed policy.
Other people, though, are taking a completely different tactic to combat the threat of school shootings: They are arming teachers.
Of course, this idea is horrifying to those who believe that guns act on their own without human intervention to kill multitudes of people. But does arming teachers really make the situation more dangerous?
One news station decided to visit the first school district in Georgia which has armed its teachers to see the results. Carolyn Ryan writes,
Laurens County, a rural community 2.5 hours south of Atlanta is making history in the state of Georgia, by adopting extraordinary school safety measures, to protect children from harm.

It is the first school district in the state to put guns in the hands of some of its teachers and staff members. Outside every school building in the county is a yellow sign that reads, in part: "Warning. Staff members are armed and trained. Any attempt to harm children will be met with deadly force."

Laurens County Schools Superintendent, Dr. Dan Brigman spearheaded the initiative in 2018, after the horrific shooting at Marjory Stoneman Douglas High School in Parkland, FL, in which 17 innocent students and staff were killed. "Parkland woke me up as a superintendent," he said. "I had a detailed discussion with not only our Board of Education, but with local law enforcement as well, about ways we can improve our response time and preserve lives in our buildings, God forbid a tragedy like that happens in Laurens County Schools."

After weeks of research and planning, the initiative was voted on by the Board of Education in April of 2018. It passed unanimously and officially launched the following fall, for the 2018-2019 school year. Approximately 28 staff members participated year one. Now, in year two, (the 2019-2020 school year) there are 45 armed staff members.

One of the primary reasons for implementing the policy, known as GAMB, is because of how large the county is. Laurens County spans roughly 800 square miles, making it the third largest in the state; If an active shooter were to take aim at a school here, it could take 5-10 minutes (or more) for the closest law enforcement officer to respond. "If there is an active shooter, every second counts," said Brigman. He says having trained staff members on-site and ready to respond to a threat could save countless lives.
Now, before any more people flip out about arming these teachers (yes, some have been critical of this idea), understand that these teachers are vetted and go through forty hours of training before being designated as one of the armed teachers in this program. Also, frankly, many of the people opposing this program are ignorant of the situation. Ryan writes,
"There's a perception it's like the wild west and the teachers are walking down the hallways with a 9-MM strapped to their side, and that's not the case," said Dr. Brigman. "The weapons are never visible, they're in a locked storage cabinet, and the only time the weapons are accessed is in the event that there may be a threat." He went on to say, "it's very, very confidential, it's very discreet, even some staff members may not know who is on these teams, we try to protect the identity and the confidentiality to preserve the process."
In other words, these educators are taking this program seriously for the purpose of protection of students and not as some ego trip.
Of course, the proof will be in the pudding in that we'll have to see whether Laurens County, Georgia experiences any school shootings, but my thought is that anyone insane enough to want to look for people to shoot will be likely to look for other counties than this one in which to commit their crimes.