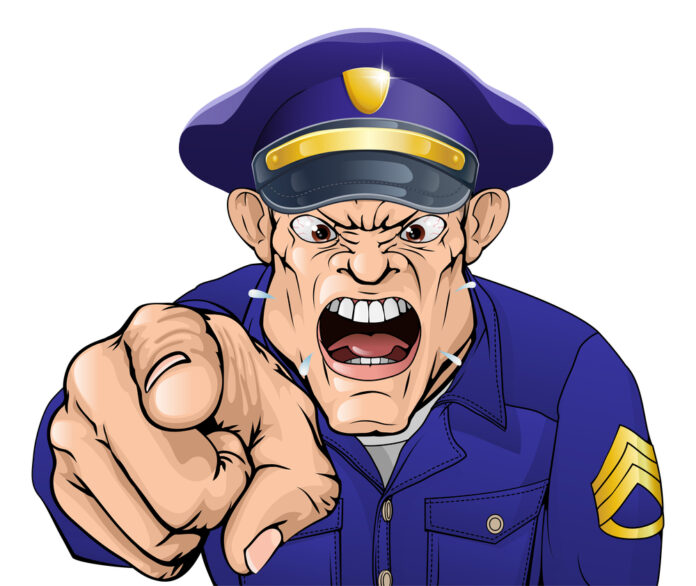 I'm not one of those people who thinks that all law enforcement officers get into that line of work because they want to bully and control people. I know too many good folks working in law enforcement to believe that.
But, understand, it doesn't take too many people using their position as a member of law enforcement to abuse other people for law enforcement to get a bad name in the minds of a lot of people. And it doesn't take many people working in law enforcement for the wrong reasons to cause a huge amount of chaos and to do a lot of damage.
Yet, anti-gunners still think that law enforcement is the only group who are safe to have guns. If you're one of the people who think that, then, please, explain why we would want the guy in this story from New York to have guns when no one else has them to protect themselves from this nutcase. Matt Agorist writes,
Early Saturday morning, Stephen Abreu, an investigator with the Office of the Special Narcotics Prosecutor, was arrested and charged with felony attempted murder, reckless endangerment in the first degree, attempted assault with intention to cause physical injury, menacing and a slew of other misdemeanors, according to reports. The charges came after he allegedly began shooting inside a Manhattan bar in an apparent fit of rage. Abreu's case is a glaring example of "blue privilege" at work in our society.

According to witnesses who were partying and dancing inside Horses & Divorces late Friday night and into early Saturday morning, Abreu punched the bartender in his face before pulling out a firearm and shooting at people. Luckily, no one was killed, but that does not excuse this cop's behavior—nor should it allow him such privilege.

According to the Gothamist, the cop went into a fit of rage after his attempt to grind on a woman was rejected.

"All of a sudden this guy is really, really close behind me," Ana Yamel, a 32-year-old film director told Gothamist. "I gave him a look like: what the f*ck are you doing?"

After blowing off the creep who moved in behind her, Yamel walked over to her friends on the other side of the bar. With his tail between his legs and his anger fuming, Abreu reportedly walked to the bar in defeat. Instead of realizing he failed, this cop, likely not used to people disrespecting his authority, raged.

Witnesses say Abreu then grabbed an orange from a bowl on the bar and threw it at Yamel and her friends, shattering glasses in the process.

"He was clearly very drunk and annoyed that we were ignoring him," said Annie Pearlman, a 31-year-old graphic designer and friend of Yamel. "It's just another example of many of a man taking a rejection and turning it into violence."

After watching a man hurl an orange at a group of women, the bartender told Abreu that he needed to leave. Again, having his authority questioned, Abreu raged on. Instead of leaving, this public servant smashed the bartender's face in before pulling out his gun. He then started firing inside the bar sending patrons panicking for cover, according to multiple witnesses and the police report.

The women said they hid under a table after hearing the first shot, which was followed by a second shot, about fifteen seconds later.

The situation was quickly on its way to potential mass shooting status except that a brave bouncer inside the bar took action. Despite this psychopath shooting at people inside a bar, security guard Austin Barber jumped on Abreu, wrestling the gun from his hands before he could do anymore damage.

Bar owner Sal Fristensky called Barber "an absolute hero."

"He completely kept his cool, even as he's wrestling a gun out of this guy's hands and holding him down," Fristensky said.

Later that morning Abreu was arrested and hit with a slew of charges. When he went in front of the judge, however, despite multiple witness reports and all the evidence against him, this cop flexed his blue privilege and walked out of the court room, paying no bail.

As the Gothamist reports, Judge Hilary Gingold freed Abreu on supervised release, despite the fact that felony attempted murder remains a bail-eligible offense under the new laws. The Brooklyn District Attorney's request of $50,000 bail was denied.

Not surprisingly, his mugshot was not publicly released either….
You read that right. This guy, a police officer, was arrested for, among other things, attempting to commit a mass shooting, but walks out of the court room. No bail. No real jail time.
If this had been you or me, they would have thrown the book at us, but this guy gets drunk, tries to commit a mass shooting, and can walk? Yet these are the folks who anti-gunners expect to protect us from violent criminals while not abusing other people.
I'd say that law enforcement officers are as human as anyone else which means that, while most are good, there are a few who need to be kept in line by fear of other people shooting back at them. And letting this guy walk without bail doesn't indicate that anyone is going to hold him accountable.
If folks like this cop aren't held accountable, then we're crazy to think that they won't be even more dangerous if anti-gunners disarm everyone but them.