What's the first thing that practically anyone does after they acquire an AR-15?
They want to accessorize it!
Today, there is a HUGE amount of products on the market. Scopes, red dots, lasers, grips, stocks, switches, gadgets, rails, and more …
What do you actually need? What actually WORKS? And what do Special Operations soldiers actually USE on today's battlefield?
Tactical AR-15/M4/M4A1 Carbine Aftermarket Accessories for Military Combat Applications: The Competition-to-Combat Crossover
There is a series of articles on DefenseReview.com that I have kept an eye on for the last few years called "Tactical AR-15/M4/M4A1 Carbine Aftermarket Accessories for Military Combat Applications: The Competition-to-Combat Crossover" and part 1 was posted in 2012, part 2 in 2014 and part 3 in 2016.
What's interesting is they're all written by the same guy, Jeff Gurwitch, who has gone on multiple tours of duty in the "Sand Box". The site says he is "Currently serving with U.S. Army Special Forces" and is a "Competitive shooter: USPSA, IDPA, and 3-Gun."
I've found it really interesting to see how he setups up his rifle and how other guys are doing it … not to mention the "evolution" of these setups over time … because the Military Issue M4/M4A1/MK18 are all very similar to the civilian AR-15 platform.
What can we learn from these guys!?
The Competition Shooting To Combat Crossover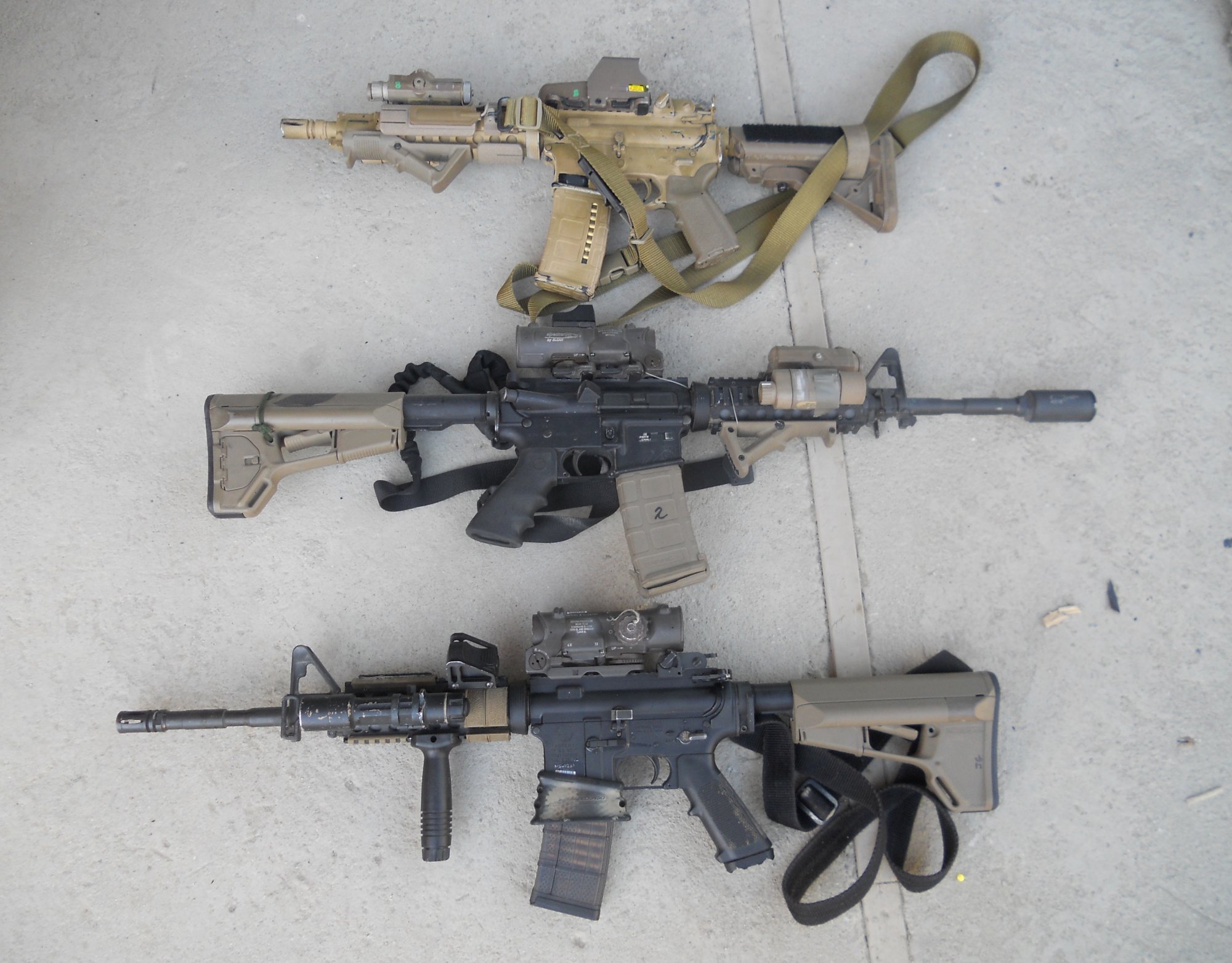 Back in 2012, in part one of the article Jeff points out that most guys are running things on their rifles that have been proven in 3-gun or other competitive shooting competitions first.
That's because whether you're on the range competing against a timer or on a two-way range competing against the "ultimate timer" (aka someone trying to shoot you) — what works to shoot fast and accurate simply works. Period.
I wrote about the benefits of competition shooting for "tactical" or real-life self-defense applications before, but it goes to show you that there's another huge benefit of competition shooting: testing gear.
In short, in the first part of this series, Jeff essentially says this:
"Even with all the various optics and accessories offered under the Special Operations Peculiar Modification (SOPMOD) program for the rifle, soldiers are opting to outfit their rifles with certain items. They're seeing what the top shooting competitors are using to win competitive shooting events like 3-Gun, and what is working for the majority of shooters, and they recognize what wins in a match can also help them win on the battlefield."
He addresses the idea of the KISS rifle and how he approaches it.
The Importance Of Silencers In Combat
In part 2, Jeff goes into how the Surefire silencer changed a lot of things for soldiers. I think his explanation is really enlightening actually, and it explains why you see so many of the short barreled (10.3″ barrel) MK18's being used by these guys:
"My choice of the MK18, and why you see more MK18's and not M4A1 Carbines with Surefire Suppressors being utilized, is due to how the rifle is being utilized down range–and this is where the way the U.S. Soldier is trained to fight comes into play. Whether you are in a team, squad, platoon or other section, one of the fundamental rules we follow is that you always try to engage the enemy with the most casualty-producing weapon you have. If you get shot at by an AK-47/AKM, return fire with a M240 machine gun. If they come back with a PKM, then you respond with a M2 .50-Cal. or 60mm mortar. Whatever they've got, you one up them and gain fire superiority!
This is a key separator between the military and civilian, or even law enforcement, shooter. The rifle is seen more as a personal defense weapon (PDW) than as a primary tool to engage the enemy. I could carry a longer rifle, but if it's mounted with a suppressor, it translates to more weight and a longer rifle (6 inches) added to a 14.5″ barrel. You are now walking around with a very front-heavy 20-inch rifle (not a very forgiving set up for the high-altitude, low-oxygen mountain terrain of Afghanistan). With a suppressor-equipped MK18, you're back to a 14.5-inch length rifle that is much better balanced and less front-heavy-feeling then a stock M4 due to the shorter barrel bringing the suppressor closer to the receiver. So, now, with the MK18, you get a much better-balanced and slightly lighter platform than a full-size rifle, with all the benefits of the suppressor.
True, running a shorter barrel, you're losing muzzle velocity, which does equal reduced range and killing power at long range. For me, this means I go from being able to shoot 650-680 meter targets with ease with a 14.5″ barrel to only being able to hit out to about 500 meters with the suppressed MK18. Yes, I lose almost 200 yards, but that doesn't really matter, because being a member of a team in an engagement, we're going to use much better platforms like belt-feds (LMG's and MMG's/GPMG's), mortars and larger calibers better suited for that range as our primary weapons to return fire. And let's face facts: Even with the best long-range 5.56mm ammo (MK262 77gr.) and a 18-inch barrel (the now retired Special Purpose Rifle MK12) although you could reach out to 750 meters with that weapon/ammo combo platform, unless you achieved a head shot, the 5.56 round (5.56x45mm NATO) is pretty anemic in terms of one shot stopping power.
So, many (myself included) find a suppressed MK18 to be the perfect compromise for performing close in work like dynamic CQB/CQC gunfighting, and still effective engaging mid-range targets out 100-300 meters. And, in a pinch, the warfighter can still engage out to 500 meters and beyond. If the threats are out farther, there are better tools for the job; bigger and better calibers."
He also talks about how "slick" or more slim rails are being used more and more. Keep in mind this was in 2014.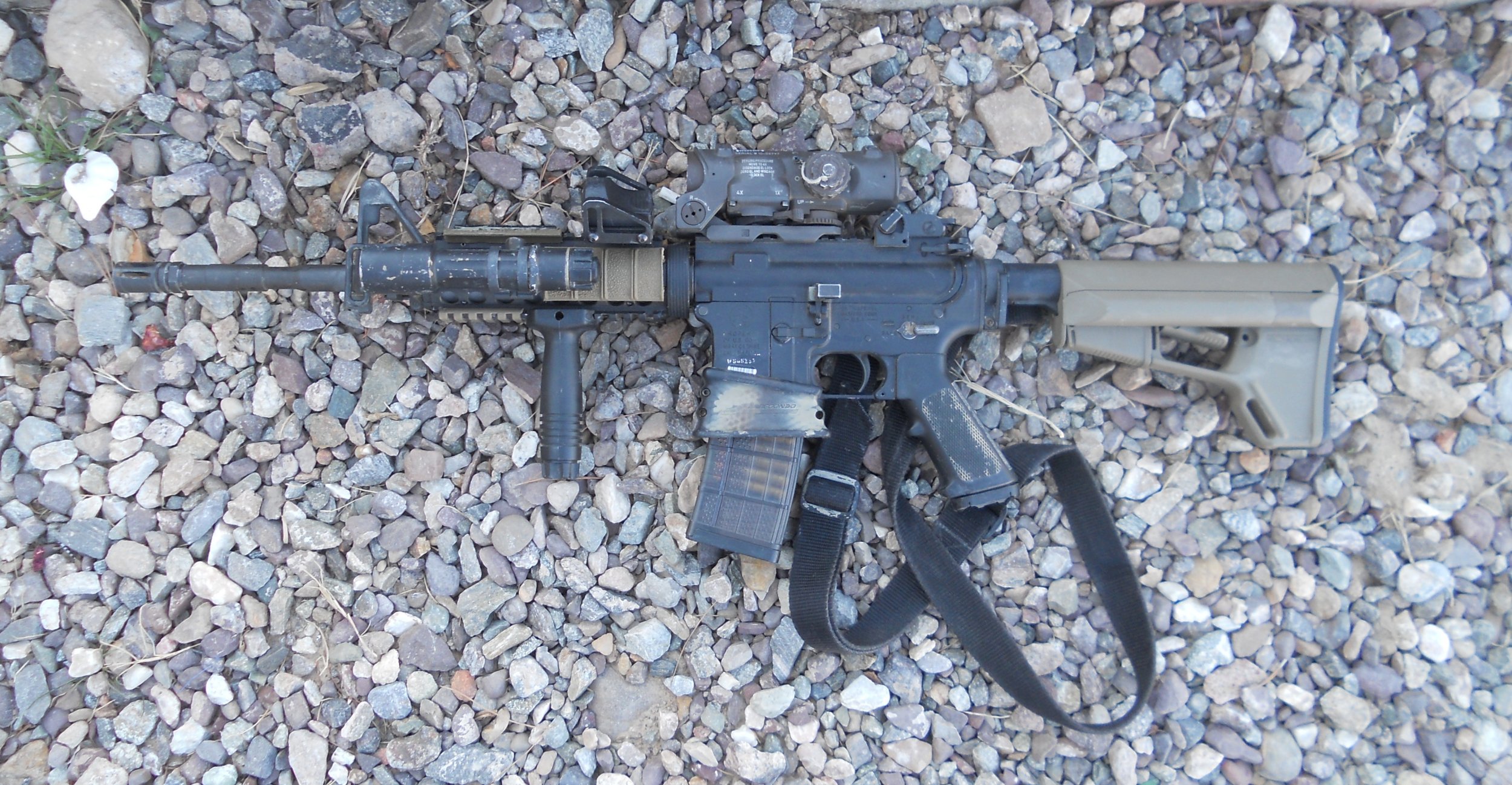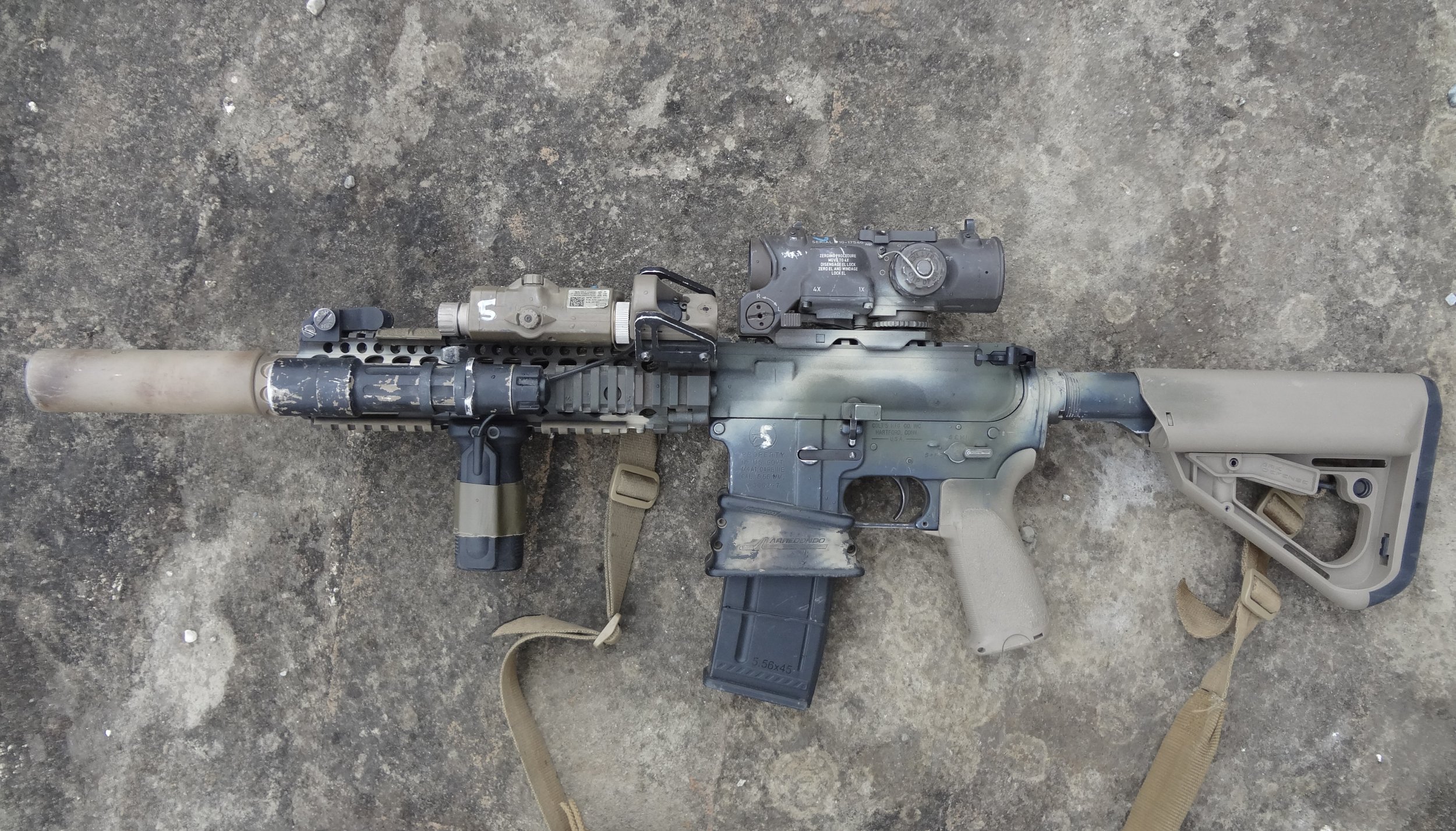 Jeff writes as a caption for the above photos: "Rifle on top (above): 2012 M4A1 set up. Rifle on bottom (immediately above): 2014 set-up. What's changed" 14.5″ upper to MK18 10.5 suppressed. Magpul butt stock swapped out for ARK Defense Enhanced SOPMOD. It's slightly lighter and has better cheek to stock, plus it's the same one on my 3-Gun rifle so I have the same feel. Magpul vertical grip has replaced the issued Knights Armament. Also swapped out pistol grip for  a BCMGunfighter Pistol Grip. I prefer Ergo grips the most, I like the angle but this BCM grip has grown on me through the deployment. Single point sling swapped out for VTAC. What has not changed; Arredondo extended mag well still in place, this makes its 4th deployment on a rifle, extended bolt release and Blackhawk Gladius light, (I first used the Gladius on a 2005 trip Iraq around the time they first came out). This is the 4th deployment using it, thousands of rounds have been fired with the Gladius mounted on various rifles still the same bulb. Matt Burkett Predator offset mount, 3rd deployment, this time fitted with newly issued EoTech mini red dot (uses same mounting plate as Doctor sight). New for this deployment BCM ambi-Gunfighter charging handle. Also note Samson flip up front sight, the rear is on my 14.5 upper (pictured at the top of the article). I only have the front on here because to get proper eye relief with the Elcan it left no room for a backup. (My plan if the Elcan were to go down, just use my 45 degree red dot offset sight. If that goes down use the Elcan sight housing itself as me rear aperture aligned with the flip up sight). All in all a good set up for me that I trust."
The Most Common & Modern Combat Rifle Setup
In the latest installment of this series, part 3, Jeff talks mainly about how the newest generation of low-power variable magnification optics are taking over the battlefield. Specifically, 1-6 power scopes.
Even more interesting, for the survivalists and preppers among us who think that "optics will fail!" or that anything battery powered sucks, etc — combat optics have become so durable and trusted by so many spec ops guys that many of them don't even run backup iron sights (BUIS) anymore! Jeff writes:
"One thing you may have noticed with most of the rifles shown thus far is the lack of a full set of back-up iron sights (front and rear BUIS). Despite what the "tactical experts" say about back up iron sights beeing a must on any tactical gun, a lot of soldiers, myself included, have had no issues with either red dots or magnified optics going down on them in combat. Is it a good idea to have a set of back-up irons on your rifle? Yes, but these guys are using their rifles in harm's way rigged like they are. If anything, their choice to not run back up irons is a testament to the durability of the current issued optics.
Note: My choice not to run BUIS on my rifle is based on the fact that I use a 45-degree-offset EOTech MRDS (Mini Red Dot Sight) on my rifles as my CQB back-up sight."
Despite praising the short-barrel setup before, Jeff also switched from the 10.3″ short-barrel upper with silencer to a 14.5″ barrel upper with silencer — it appears mainly because it helped match the Bullet Drop Compensator (BDC) with his new scope.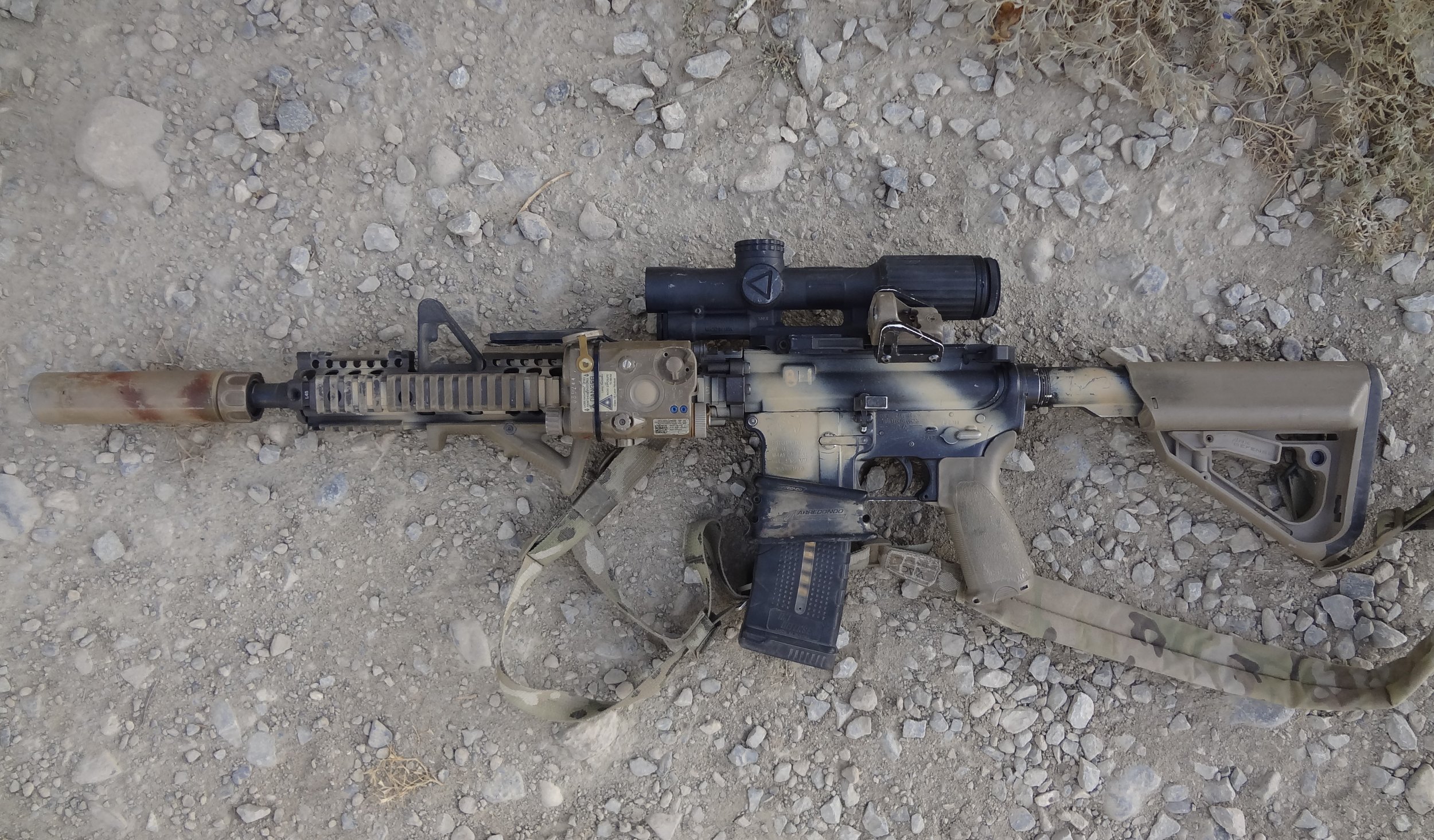 Bonus: Frank Proctor Made Many of The Same Changes To His Carbine Setup
In the video below Frank Proctor (served over 18 years in the military, the last 11 of those in US Army Special Forces and USPSA Grandmaster and IDPA Master ranked competitive shooter) talks about how his carbine setup changed over his combat tours …
Key Points From Frank Proctor's Video (And The Modern Combat Rifle Setup In General):
 Variable low-power optics (1-4, 1-6 or 1-8 he specifically mentions)
 Running adjustable stock extended longer than full collapsed
 No backup iron sights (BUIS) are needed because modern combat optics are so durable.
 Sling (of course) – 2 point to be specific
 White light (for .mil guys Infared (IR) lasers, etc)
NOTE: It's worth pointing out that Frank Proctor is starting with a pretty "modern" M4 type setup. For example, his rifle already has an aftermarket stock, slick rail, aftermarket pistol grip, etc. The guys in the military are issued an M4 that they FIRST have to modify to get to that point (new stock, new rail, new grip, etc). Then they all make the same basic mods/accessories after that.
And with this setup you see Frank Proctor run it from 10-250yds in that short video.
As you might notice there are some very key similarities between all the guys who use these combat rifles and are actually good shooters.
What's Next For Combat Rifles?
I've written before that you only need 3 accessories for your combat rifle (AR-15) — a sling, optics and a weapon mounted light.
That's pretty much still true, but you can see that most guys using their rifles in combat are customizing them even further.
One thing I'll note is they're not just doing this to do it. If you read the reasons why they might run a custom/aftermarket butt stock for instance it's to get a better cheekweld to see the optic better.
Or they might switch out rails to make it easier to use a particular white light, etc
In short, if they add an accessory it's because they're trying to make something work better on their rifle. They just don't add stuff to add it.
Lastly, because so many guys are already using 1-6 variable scopes — I bet that within the next few years many of them will be using 1-8x variable scopes because these are already starting to enter the civilian market.
Anyways, it's a pretty cool series of articles that you should check out and the pictures of combat rifles are neat.
What About You?
What accessories do you run on your AR-15?
Did seeing what modern soldiers are using help you out?
Are you going to change anything or buy some new gear based on what you've seen?