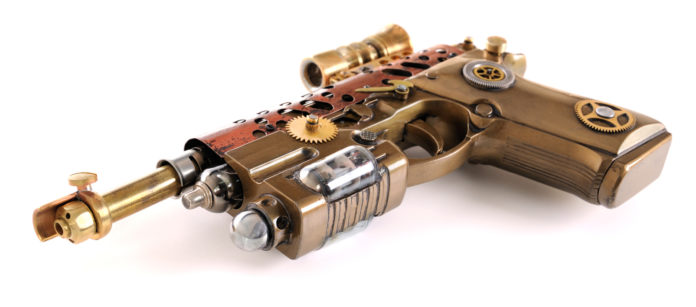 If you're like most people, you assume that anti-gunners are against all guns. I mean, the name implies that, doesn't it? Even anti-gunners would tend to agree with you that they are against guns.
But there is one gun that even anti-gunners are salivating to get their hands on. Jill Serjeant gives us the details:
One of the most iconic movie weapons in "Star Wars" history – Han Solo's hero blaster – is going up for auction in June and could fetch up to $500,000, Julien's Auctions said on Thursday.

The hero blaster gun, used by Harrison Ford in the 1983 movie "Star Wars: Return of the Jedi," is one of two non-firing hero blasters used in the movie and is known in the "Star Wars" universe as a DL-44. The whereabouts of the second of the prop weapons is unknown, Julien's said.

Ford is seen using the hero blaster in many scenes from "Return of the Jedi," and the powerful weapon, like the lightsaber, is among the best known movie props from the sci-fi franchise.
Now, you have to admit, even if you're more of a Star Trek fan than a Star Wars fan, that owning Han Solos blaster would be one of the coolest conversation pieces to have on your living room wall (much better than a phaser from Star Trek which, basically, looks like a television remote control).
And the amusing thing is that even anti-gunners are clamoring to get their hands on Han Solos weapon. Which makes you wonder why so many anti-gunners like Liam Neeson and Sean Penn star in so many movies that have so many guns. Could it be paychecks over principles? That would be Hollywood's style, after all.
But, even if you aren't able to get your hands on Han Solo's blaster, wouldn't you love to have this piece of memorabilia? And, if not this blaster, what gun from a movie set would you want to get your hands on? Tell us below.