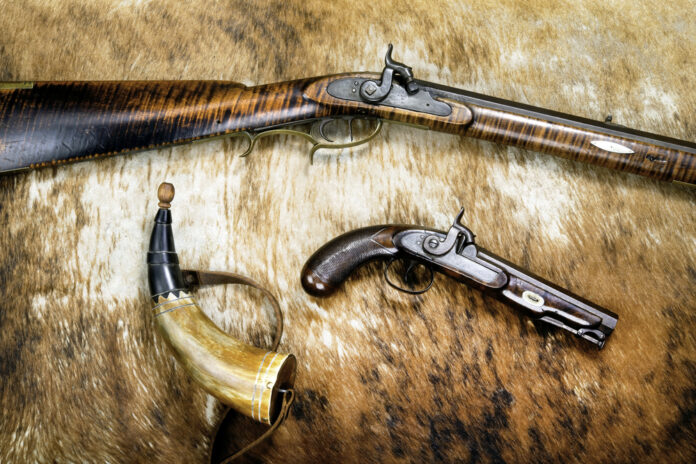 One of the more popular gun control arguments is that the founding fathers intended the Second Amendment to specifically be about muskets, and because of this, the Second Amendment doesn't extend the right to bear arms to any firearm that might be semiautomatic or automatic.
Of course, even on face value, this is nonsense. If the Second Amendment had been limited to muskets and not to weapons as a general category, then the founding fathers would have written that we have the right to bear muskets. That they wrote that we have the right to bear arms should settle the argument.
But for those anti-gunners who don't understand the written word, let's clear up the situation: the Second Amendment wasn't specific to muskets because muskets weren't the only arms that the founding fathers were familiar with. In fact, the founding fathers knew about repeater firearms which are, basically, automatic weapons and did not exclude them. Logan Metesh writes,
Gun control advocates love to claim that the Founding Fathers couldn't possibly have conceived of repeating rifles when they drafted the Second Amendment to the Bill of Rights. The history of Joseph Belton, an inventor and gunsmith from Philadelphia, and his correspondence with the Continental Congress proves otherwise.

Belton claimed to have devised a new form of repeating flintlock musket that was capable of firing as many as sixteen consecutive shots in as little as twenty seconds. After the gun had fired its consecutive loads, it could then be reloaded individually like all other traditional weapons of that time.

Belton wrote to Congress about his new invention on April 11, 1777, letting them know he could be available to demonstrate it to them at any time.

Intrigued by Belton's claim, Congress ordered 100 examples of his "new improved gun." They authorized him to oversee the construction of new guns, or alteration of existing guns, so that they were capable of discharging eight rounds with one loading and that he "receive a reasonable compensation for his trouble, and be allowed all just and necessary expences [sic]."
To make a long story short, the government did not end up buying any of Belton's rifles because of the high prices that he was asking. However, the correspondence between Bolton and the Continental Congress occurred in 1777, while, as Metesh notes, "[t]he Bill of Rights wasn't ratified until 1791." Metesh continues,
I'm no math whiz, but even I know that means our Founding Fathers not only knew about repeating rifles 14 years before the creation of the Second Amendment, but that they thought highly enough of the design to pursue further development and implementation of such technology.

So the next time someone claims the Second Amendment was never designed to protect the right to own a repeating rifle, or that it was only meant to apply to flintlock muskets, you can tell them the story of Joseph Belton and his repeating flintlock musket.
Belton's story is clear. The history is clear. The hard part will be getting your anti-gunner friend to actually read history (they don't, usually, unless they are trying to reinterpret it into their pet theory's image) and connect the dots. And we all know that logic and thinking through the long-term consequences of a policy are not anti-gunners' strong points, so, sadly, you're still going to have an uphill climb with that discussion with them.