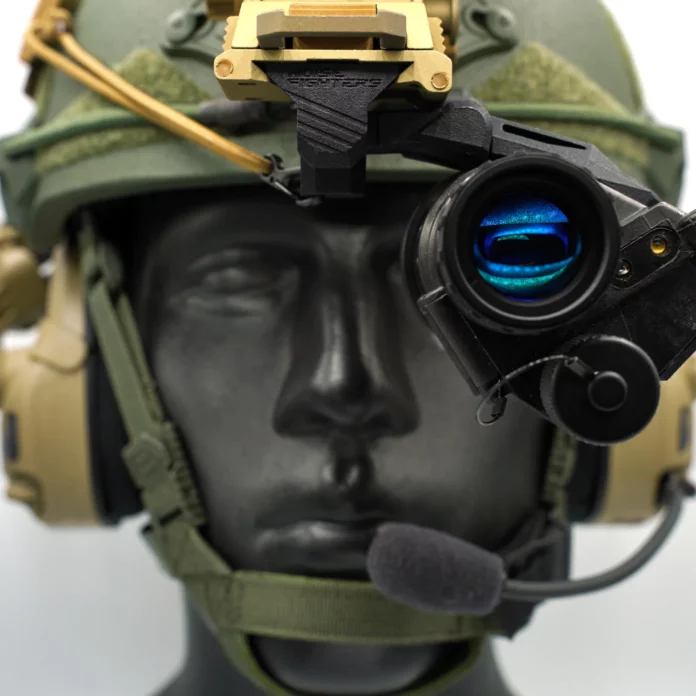 If you're looking for the best J-Arm style mount for your PVS-14, then the Noisefighters AX14-PRO™ is it!
I don't like to speak in absolutes, but I can definitely say that this is the best J-Arm style mount for a monocular setup with your PVS-14 (as long as you're running a dovetail-type helmet mount).
In this short review I'll cover why I believe it's so great, my personal experience running it (including my favorite features) and the best place to get it for the best price.
Full Disclosure: To be absolutely clear, Noisefighters sent me the AX14-PRO to review. However, I do not receive any compensation for this review.
The Noisefighters AX14-PRO™ is a lightweight night vision monocular mounting arm for the PVS-14 and similar devices…
What Is The AX14-PRO Mount?
In the past, if you wanted to mount a single PVS-14 to your helmet, you would get a USGI J-Arm that attaches to your standard issue USGI Rhino Mount.
This is what I have been running until now with my own PVS-14.
But if you want to upgrade, then the AX14-PRO is it…
Simply put the AX14-PRO takes everything that is good about a USGI J-Arm mount and improves upon it—while eliminating most of the things that suck!
Check out the short overview video below from Noisefighters for more detail:
10 Ways The AX14-PRO Is Better Than A Standard USGI J-Arm Mount:
The AX14-PRO is so well thought out, that as I was writing this review, I struggled for how to organize the info on how it's better than the USGI J-Arm Mount…
Then I realized, it's easier just to list them out:
1. It's LESS than HALF the weight (52% less) of a USGI J-arm (only 0.9 oz/26g total!)
That is super, super light!
It's not like the USGI J-Arm is a heavyweight pig either – it's mostly just some tough plastic – so it's already pretty light…
But with night vision, anything you can do to reduce the weight hanging off your face/head is a great thing.
So because the AX14-PRO is less than half the weight, it's already a winner for most people.
2. It's stronger and more rigid
According to Noisefighters, "The choice of a high performance polymer from Arkema® produces a nearly indestructible monocular mount. The highly impact-resistant material chosen for the AX14-PRO should absorb shocks and bounce back into shape instead of fracturing when dropped, bent, or otherwise stressed."
I don't know much about polymers and I don't know how the USGI J-arm is made or what material it's made of…
But I can say that when you handle both in your hands, subjectively, the AX14-PRO feels much sturdier and much better made.
3. The articulating knuckle allows tight lid stowing and swinging up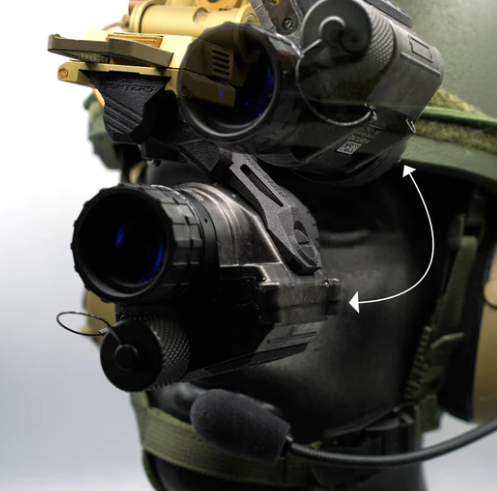 One of the cool things about dual-tube articulating night vision setups like the PVS-31 is you can simply swing the night vision tube up a out of the way of your eye if you want to see with your naked eye.
You can't really do that with a USGI J-Arm and PVS-14, but with the AX14-PRO you can!
You just rotate the device up over your eye if you want to see without it.
Plus, when you fold the night vision up on your helmet, you can push it down nice and tight so it's not sticking up looking like a rhino horn and making it less likely you'll bump it on stuff like doorways, or getting in and out of cars, etc.
4. Dummy cord attachment built in
This is such a small thing, but it's appreciated…
There's a tether/dummy cord attachment point right at the rear of the arm – I didn't even realize it until after the first time I used it.
This is definitely appreciated, because you always want to secure your expensive night vision in case it gets knocked off your helmet.
5. Made of super tough materials
We've already talked about how it's made out of "a high performance polymer from Arkema®"…
But Noisefighters also says "All hardware is made of genuine, passivated 316 stainless steel and mil spec anodized aluminum"
Again, all you have to do is pickup a USGI J-arm in one hand and the AX14-PRO in the other and you can feel how well made the AX14-PRO feels.
6. Transferable lifetime warranty
Because this is such a well-made unit, Noisefighters offers a transferable lifetime warranty.
This is great because I bought my USGI J-Arm second-hand from ebay.com – that means if something breaks I'm on my own and nobody will replace it.
But if your AX14-PRO breaks – you're covered with their lifetime warranty!
7. Dovetail mounting system
Personally, I've always used the standard USGI bayonet mounting systems for my night vision setups…
That's because it's the cheapest design out there.
And while I've never had a problem with it, most everyone agrees that the best, upgraded mounting systems now use dovetail mounts…
I went ahead and ordered a Norotos RHNO II Dovetail Helmet Mount so I could use the AX14-PRO and I couldn't be happier!
I don't have experience with other dovetail j-arms (if there are any) but the AX14-PRO fits the dovetail mount like they were made for each other.
There is no play or wiggle or the "rattle" like you get with a USGI J-arm, so it already feels more solid.
8. No auto-shutoff
This could be considered a downside for some, but I like it…
What this means is that when you flip the mount up onto your helmet it doesn't automatically shut-off the night vision.
While I've never personally had problems with the auto-shutoff, I've read reviews of people online say that the auto-shutoff feature standard with most PVS-14 USGI mounting systems can be "too sensitive" and turn their device off when not wanted.
So, this eliminates that failure point which is nice.
9. Maritime-rated
There's no telling what type of weather you might have to use your night vision in…
Most of us aren't doing maritime operations, but it's nice that this mount is made for all weather conditions…
Because of the components they use, the AX14-PRO is 100% maritime rated, so you won't have to worry about salt water corrosion.
10. Makes eye-switching easy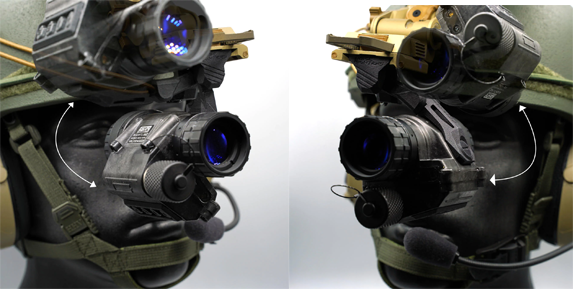 One thing I found unique about the AX14-PRO is how easy it makes switching eyes…
I was taught and usually run my PVS-14 over my non-dominant, left, eye…
But I decided to do some passive aiming with a red dot sight on my AR15 one night while testing the AX14-PRO…
I was able to quickly switch the PVS-14 from my left eye to my right eye and aim through my red dot to engage the target!
Honestly, this is probably my favorite feature of this mount and would be worth upgrading just for that!
Who Should Get The AX14-PRO?
If you are planning on running a monocular night vision system like the PVS-14…
And you have a dovetail helmet mount…
Then I think you should definitely upgrade to the AX14-PRO for your mounting needs!
It's a huge step up from the standard USGI J-Arm mount and worth the money in my opinion.
The only reason I could see to not get this mount would be if you don't want to upgrade to a dovetail helmet mount. If you want to stick with bayonet mounting systems, then you won't want to upgrade because dovetail is required for this setup.
Where To Buy The Noisefighters AX14-PRO?
You can click here to get more information or buy the Noisefighters AX14-PRO™ from their website.
Full Disclosure: Noisefighters sent me the AX14-PRO to review. However, I do not receive any compensation for this review. Nor will I receive any compensation if you buy this product.