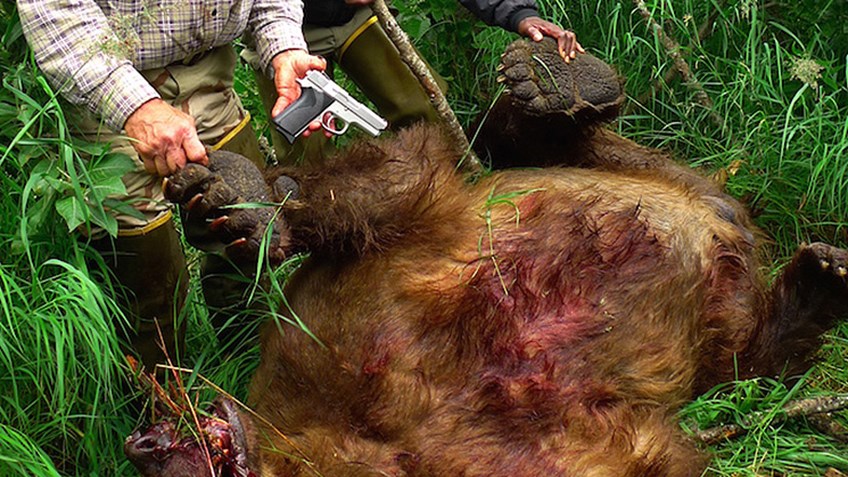 There is no replacement for shot placement.
I THINK I just made that little tagline up, but I'm not sure.
Either way, it's 100% true and here's why:
There is no bullet, gun or piece of gear that can make up for poor performance. Specifically, in the case of defensive use of a firearm, shot placement is absolutely the #1 most important part of stopping an attacker.
Shot Placement, Not Caliber, Is King
In the firearms world there is a lot of debate as to the "best caliber" both in handguns and in rifles.
A lot of gun guys don't like 9mm's because they think the .45 ACP is superior and that a 9mm won't reliably stop a threat. (Even though with modern defensive ammunition all service calibers — 9mm, .40 S&W, .45 ACP — perform about the same.)
In rifles, there's a lot of gun guys that still don't like the standard AR-15 cartridge — 5.56 NATO/.223 Rem — calling it a "poodle shooter" or pointing out it's considered a varment round for hunters (even though, again, it's not only proven itself through multiple wars, but proper ammunition makes this round even more capable.)
And of course one guy says he'll never trust his life to a .380 … but other guys say that any gun is better than no gun.
The arguments go on and on …
But the truth is that shot placement, aka, hitting a vital target is KING and it always will be.
If you can do that — almost all calibers will achieve the objective of stopping a threat.
CASE STUDY: Alaska Outfitter Kills Raging Grizzly With 9mm Pistol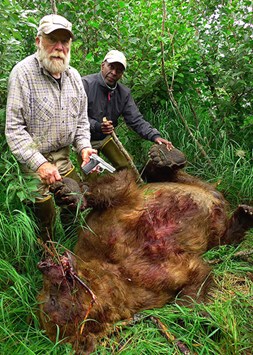 A buddy of mine sent me this awesome story about an Alaskan outfitter who defended fishermen from a raging grizzly and killed it with his 9mm pistol.
That's right, a little 9mm pistol.
Not even a big, manly caliber like .45 ACP!
Phil Shoemaker (the guide) starts his report by saying (emphasis mine):
 "I have killed enough bears to know how important shot placement can be, even with large-bore rifles. I was well aware of the limitations of my 9mm pistol, even with Buffalo Bore ammo. I was aiming for a vital area with each shot; because it all took place between 6 and 8 feet, they were not far off. But hitting the head and brain of a highly animated and agitated animal is a difficult shot."
Did you get that?
Shot placement is critical … even with … big, manly "large-bore rifles". So there's no replacement for accuracy.
Now let's get to the awesome story …
"The bear was highly agitated and standing within 3 feet of my clients when I decided I could take a shot without endangering them.
"My first shot was at its neck, and then it began growling and spinning toward the impact. I wanted to hit the head but the bear was moving so fast I simply began shooting each time I could hit a vital area. I hit it six times before it turned to run off, and my seventh shot was into its pelvis area as it ran. When it dropped within 6 feet of the last shot, I checked my pistol and found I had only a single round left in the chamber so decided against walking in and finishing it.
"My pistol was loaded with Buffalo Bore 9mm +P Outdoorsman 147-grain FN hard-cast loads that have a muzzle velocity of 1100 fps. I had previously tested, compared and proven such loads with my .357 and .44 mags., and I was convinced they would work."
Practice Accuracy Because It Can Save Your Life
If you have to use a gun to defend your life or the life of someone else, then accuracy and shot placement are absolutely critical.
You need to aim for vital targets, and shoot them as many times as needed, until the threat stops being a threat. That's why you should practice face shots.
Accuracy is vital. Combat accuracy, or being able to get multiple, good hits, at speed is the key. Here's how to practice combat accuracy and a more complete discussion of shot placement and what are vital area targets on the human body.
It won't matter what kind of whizzbang gun or caliber you're packing if you can't hit what you're aiming at. So make sure you practice more than you argue over ammunition.