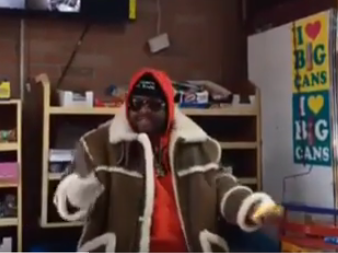 Some people just can't stay off of the social media. A thug in Staten Island demanded that the store owner he was robbing, live stream the robbery on Facebook or be killed. Live streaming is a relatively new Facebook feature that allows users to broadcast videos live to their friends and the world.
Not only was the crime caught on Facebook, it was also recorded on the stores security cameras. Now the police have two sources of video evidence and one source of audio to prosecute the suspect they arrested less than a half hour after the incident.
A more complete accounting of this bizarre incident can be found here.
Watch the dumbass criminal do his dumbass deeds below:
https://youtu.be/IDqQTwabtDI
The store owner does his best to play it cool and deescalate the situation. Just before this recording started, the thug threatened to kill the store owner if he didn't record the incident.
New York's gun laws make it difficult for citizens to protect themselves, but in this case, a calm demeanor was all that was required to survive the knife wielding ice cream thief.
The thug got his wish and he went viral. Now he can enjoy his 15 minutes of fame from behind bars, where he belongs.