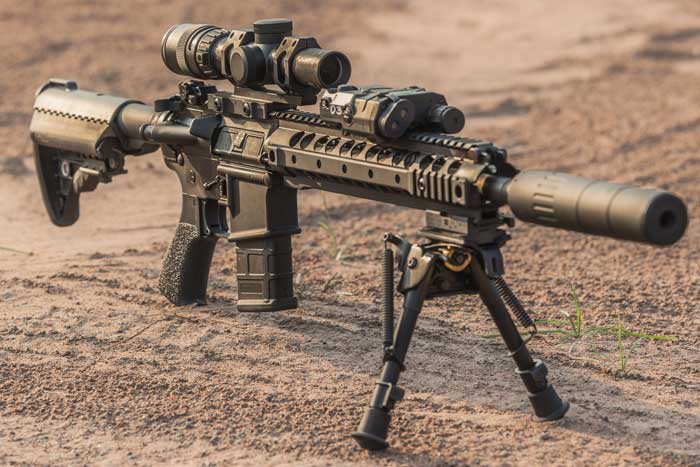 File this one under "uh duh"!
As you probably know the "Hearing Protection Act" was reintroduced to congress to remove silencers from the National Firearms Act (NFA).
Obama Admin's Center for Disease Control (CDC) also found out there are not one but TWO things silencers can be beneficial for. You may guess the one, but maybe not the other? Check it out:
First, Silencers Best Option For Reducing Gun Range Noise
In the first "duh" entry — after noting that the noise on outdoor test ranges in California was particularly high — CDC found this:
The only potentially effective noise control method to reduce students' or instructors' noise exposure from gunfire is through the use of noise suppressors that can be attached to the end of the gun barrel. However, some states do not permit civilians to use suppressors on firearms.
Well, yeah.
Now let's not go full retard and think we need handguns with silencers hanging off them as a requirement (I feel like that would be the next Government step because "logic"), but yes, encouraging silencer use by making them 100% legal like any other non-registered gun part would be perfect. I would GLADLY shoot silenced rifles if given the choice.
Also …
Second, CDC Finds Quarter of Americans Have Hearing Loss Because of Noise (Solution? Silencers)
Along with that, as Americas1stFreedom notes:
A CDC study recently found that a staggering 40 million American adults—including one-fourth of people 20-69—have lost some hearing because of noise. Even more noteworthy, 53 percent of those with hearing loss claimed to have no occupational exposure to excessive noise—a number which likely includes many shooters and hunters.
These numbers not only uncover a national epidemic—they also indicate that the deregulation of suppressors, as outlined in the Hearing Protection Act, should be regarded less as a matter of politics and more as an urgent matter of public health.
Given that noises of over 140 decibels can cause permanent hearing loss with hearing protection—and that an unsuppressed .223 rifle produces about 165 decibels—the use of suppressors (which reduce gunshot noise by 20-35 decibels) could, when combined with regular hearing protection, significantly reduce the longstanding prevalence of hearing loss in the shooting community.
I mean, none of this should be news guys.
This is common sense.
Conclusion? Support The Hearing Protection Act In Congress Again
This isn't the first time that a pro-silencer bill has been in congress. They normally don't pass. This one has a lot of support and with a new Trump presidency a lot of people are hoping it will.
As I've said before, even anti-gun places like Europe are KILLING America when it comes to silencer use. Trump's son knows it, let's see if he can convince dad too.
After talking to some people who work in the silencer industry, as the video points out below, it might be a WHILE before this bill gets passed (if at all) … and more importantly because people don't realize how complicated our Government is … that just because we have a republican majority, it's not a guarantee (at all) it will ever even make it to the President's desk. Good little fact filled vid:
When it comes down to it, support the bill and lets dismantle the NFA entirely before Trump's first term is over (a gal can dream can't she?)