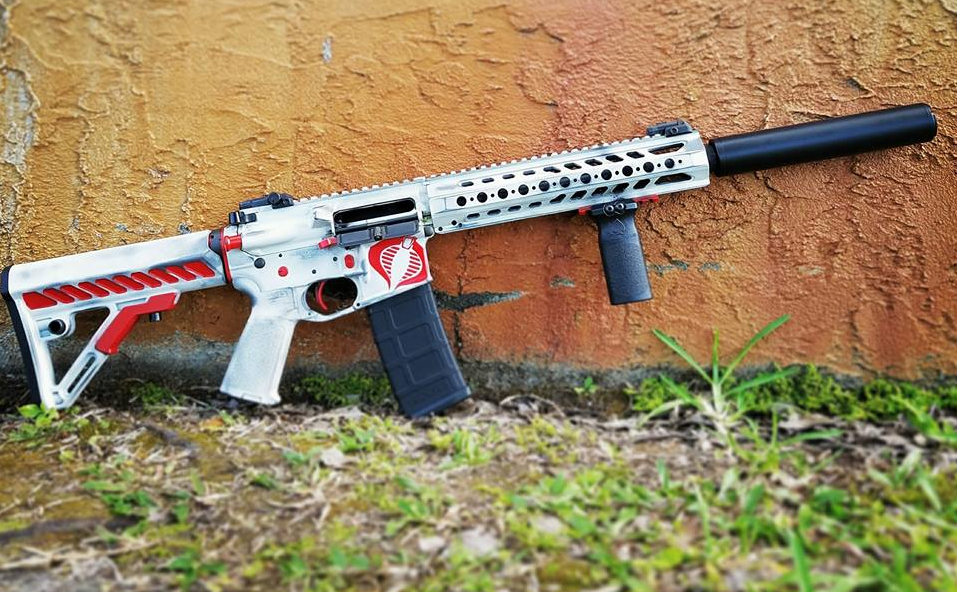 Silencers still require a $200 tax stamp to buy which sucks.
Especially when you figure most silencers cost at a minimum of $400 to well over $1,000!
Hopefully, the new laws trying to get passed will make silencers legal to buy with no tax stamp and no NFA restrictions…
But even now the silencer market is one of the fastest growing segments of firearms related businesses. That has led to a lot of innovation.
And now we're FINALLY seeing some cheaper-priced silencers. This one costs less than the $200 tax stamp! Check it out:
Introducing The $199 AR-15 Silencer – The "Black Aces Tactical Pro Series 56 Po'Boy Suppressor"
Now for less than the cost of the $200 tax stamp you have to pay to FedGov to acquire it, you can get a silencer for your AR-15 for just $199.
That's a pretty good deal. Sounds perfect for the first-timer who isn't going to do a LOT of silenced shooting but just wants to have it for plinking.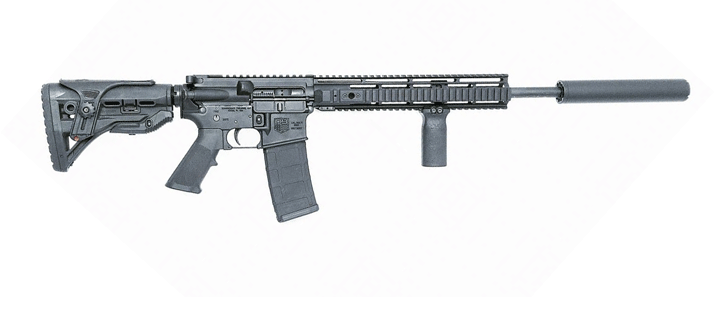 For the low price, you might think it's crap… but check this out…
I'm no silencer expert by any means. But in this video below, the guys from Black Ace run multiple magazines on full-auto through the silencer testing it out. Then you can see some of the decibal level testing showing how quiet it makes the AR-15. This looks very promising…
Here's complete specs from the company's Facebook page:
---
Pro Series 56 Po'Boy Suppressor
Features & Specs:
-134 Db tested with an average of 33 Db reduction on a 16″ barrel AR platform rifle in 5.56
-4130 Chromoly steel exterior wall/ 316 stainless interior. Incorporates dual wall integrity and highly corrosive resistant interior wall
-High heat graphite air cooled cerakote finish that withstands up to 2000 degrees
-Length 8″ Diameter 1.5″ Weight 25Oz
-Reinforced Straight stacked baffle
Our Decibel testing was done following the Mil Standard 1474 Delta. Using a 2017 calibrated Bruel & Kjaer 2209 with a 4136 microphone.
***We also took special care to ensure that we used a standard AR-15 stock wrench pattern to remove the front cap to clean out the interior and baffling after use.**
** Full auto use. The Po' Boy suppressor is capable of handling sustained full auto fire on both long 16″ and limited short 12″ barrels.
The best part of this Pro Series 56 Po'Boy suppressor is that it is $199 for the customer!!! Less than the stamp tax!
---
Check it out or buy it at BlackAceTactical.com.
Silencer Technology Keeps Getting Better. The Free Market Keeps Making Prices Cheaper. What a GREAT Time To Be Alive!
This is truly an exciting time to be alive…
Since the expiration of the Assault Weapon Ban (AWB) in 2004, the AR-15 industry has grown by leaps and bounds…
What we have today is so much better than before.
And because of the free market, prices have never been more affordable…
Now we're starting to see the same thing in the silencer industry.
If Trump can help get the pro-silencer bills in congress turned into law, and silencers become available with no tax stamp then the market is going to skyrocket even more than it already is!
Exciting times to be sure. Does a super cheap — less than $200 — silencer make you want to buy one anymore than before?
Interested to hear your thoughts…