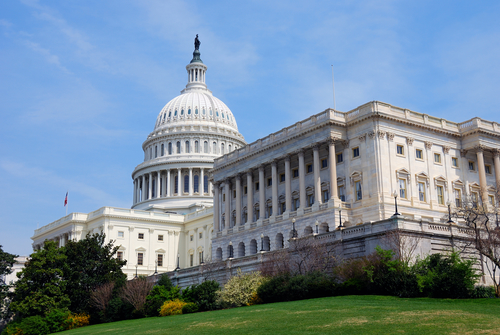 Some things are so absurd that you almost have to laugh at them. But, sometimes, those same absurd things actually come up in real life, and you have to deal with them.
At this point, for anyone who has made any attempt at objectivity, the idea of arguing for gun control for the safety of the population is a dead issue. Gun control doesn't work. It never has in the long-term and never will.
But that doesn't change the fact that those who are obsessed with an agenda regardless of whether or not it is based in reality keep trying to push gun control legislation through Congress.
Want proof? Well, here you go: Our friends over at therighttobear.com posted this scary information:
House Democrats have introduced no less than 6 new bills to Congress, all with the aim of banning, restricting or monitoring firearms in the United States.

Rep. Mike Thompson sponsored a universal background check bill that already has 231 co-sponsors among the 435 members.

Rep. Joyce Beatty introduced H.R. 282 which is a catch-all ban on vaguely labeled semi-automatic "assault weapons" that would also "buy back" the prohibited arms which would replace the "default to proceed" measure used on stalled background checks.

Rep. Anthony Brown suggests H.R.717, which seeks to raise the minimum age requirement for buying firearms to 21, nationwide.

Rep. Madeleine Dean advocates H.R. 869 whose aim is to "modernize" the Undetectable Firearms Act of 1988. The current act forces manufacturers to include a minimum of 3.7-ounces of stainless steel in the make of firearms so that the trigger metal detectors. Dean seeks to update the act to force firearms to maintain a "gun-shaped image" in detection systems. She claims the growing market of polymer and 3D guns necessitates the update.

Rep. Nydia Velázquez submitted H.R. 930 desiring to put in place a tamper-proof passive identification system for guns that would make it possible for them to be identified by mobile or fixed reading devices.

Rep. Bradley Schneider stands behind H.R. 939, a move to spread the restrictive measures approved in his state of Illinois to the rest of the nation. The bill imposes numerous additional measures that can hardly be meet by small gun shop owners.

Lastly Rep. Jim Himes purposed H.R. 942, that seeks federal grant money to be used for "smart-gun" technologies like biometric fingerprint locks.

Protecting our people shouldn't be an issue that also needs vigilante protection.
Look at that: seven bills in just this one legislative session. Will most of them pass? Very unlikely, but the truth is that none of them should get any real consideration because they are just attempts to chip away at our Second Amendment rights. So, go ahead and call your Representatives and Senators now and tell them to vote against any and all gun control measures. They need to know that we won't stand for this anti-gun nonsense.