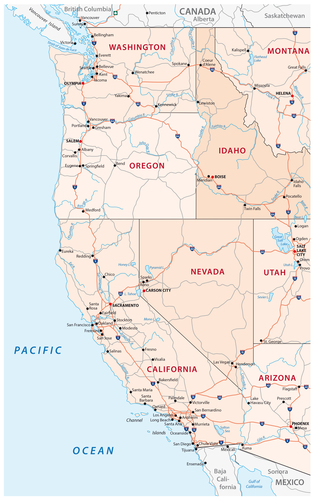 State governments on the "Left Coast" aren't known for being friendly to pro-gun people. Now, in case you aren't familiar with the term "Left Coast," this is referring to California, Oregon, and Washington state. The governments in these states have passed some of the strictest gun control legislation in the nation.
However, a state legislator in Washington is advocating that roughly half of that state secede from the rest of the state of Washington to create a 51st U.S. state. Why? Simply put: Gun rights. Jim Camden writes,
Striding back and forth across the marbled Rotunda with the flag of the proposed state of Liberty behind him, Rep. Matt Shea drew a connection between supporting gun rights and splitting Washington at the crest of the Cascade Mountains.

Despite all the talk he's heard about "One Washington" around the Capitol, Eastern Washington and liberal downtown Seattle are very different, the Spokane Valley Republican said. Residents of the latter might support more government regulations, higher taxes and gun control; residents of the former don't, he said.

About 50 people gathered in chairs and on the steps around him cheered and clapped.

"We're not going to live in a state that takes away our firearms," he said, to more cheers. "The only solution left is a 51st state."

To those in Western Washington who point out that Eastern Washington gets more back in taxes than it pays into the state coffers, Shea said future 51st staters should just reply, "We don't want to be a burden any longer. Let us go."
Shea makes a good point that the urban areas of the state of Washington, like urban areas in much of the rest of the country, tend to be anti-gun. It's also worth noting that people living in urban areas also have had less exposure to legal uses of guns. The solution is simple, in Shea's mind: separate the pro-gun Eastern portion of the state from the anti-gun portion of the state.
While we've yet to see how far this will go and how likely it is that it will succeed (anti-gunners are notorious for being unwilling to let other people keep their own liberties), it will be interesting to see what happens here. If Shea is successful, it's possible that we may see this type of state succession (not from the Union but from the rest of the state) occurring in many other states, too.