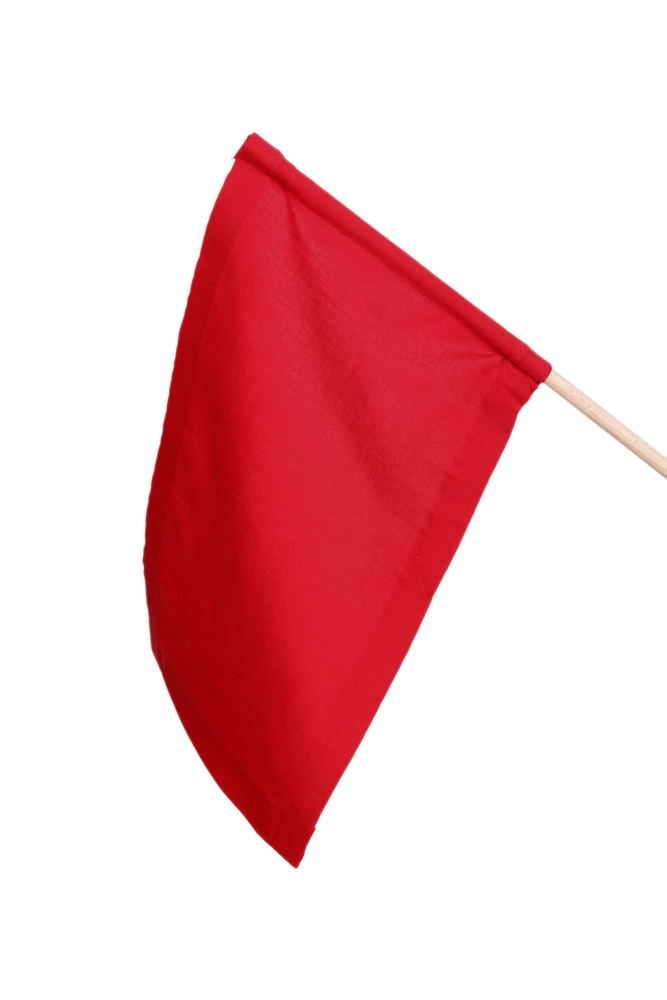 Red Flag Laws. Anti-gunners love them for exactly the reason that pro-gun people hate them: they circumvent the Constitution so that anti-gunners can take away firearms from innocent people.
People who have been paying attention know this. But the scary part is that there are people in power who actually think that they are a good idea, not just on a state level, but on a national scale. Jacob Sullum writes,
This week the House Judiciary Committee approved the Extreme Risk Protection Order Act. The legislation would provide grants to encourage the passage and enforcement of "red flag" laws, which are supposed to prevent people from possessing firearms when they are deemed a threat to themselves or others. The bill's standards for grant eligibility vividly illustrate the due process issues raised by such laws. Far from encouraging states to include robust due process protections, the bill would encourage them to slap together the weakest elements of the existing statutes.

The original version of the bill, which was introduced by Rep. Salud Carbajal (D–Calif.) in February, included very loose criteria for red flag laws. An amendment by House Judiciary Committee Chairman Jerrold Nadler (D–N.Y.) made the bill even more permissive.

In Nadler's version, petitioners—who, depending on the state, may include a long list of relatives and acquaintances as well as police officers and prosecutors—could obtain an ex parte gun confiscation order if a judge decides there is "reasonable cause" to believe the respondent "poses a danger of causing harm" to himself or others. That determination would be made without any input from the respondent, who at this stage is not notified and has no opportunity to rebut the claims against him. Contrary to the bill's name, the danger the respondent allegedly poses would not need to be "extreme," substantial, or even significant. Furthermore, no time frame is specified, so the risk would not have to be imminent, which you might think would be a requirement for an ex parte order.

That initial order could last up to a month, at which point the respondent would finally get a hearing, although he wouldn't have a right to legal representation if he can't afford it. The judge could issue a final order if, based on "a preponderance of the evidence," a respondent seems to pose "a danger" to himself or others. Again, any level of risk would do, and the danger could be near or distant. The order could last "for a specified period of time" or until terminated by another order—i.e., indefinitely. Given the standard of proof (which is equivalent to any probability greater than 50 percent) and the level of danger required (anything greater than zero), respondents could lose their Second Amendment rights for a year—or longer, depending on what state legislators decide to allow—even if it was 99.9 percent certain that they never would have hurt themselves or anyone else.

The minimum standards prescribed by Nadler's bill seem to have been crafted so that all the jurisdictions that already have red flag laws—17 states and the District of Columbia—could qualify for grants. The bill thus would lower the bar to the level of the jurisdictions with the weakest due process protections.

In every jurisdiction but two, for example, an ex parte order is supposed to be based on a risk that is "imminent," "immediate," or "in the near future." Nadler's bill dispenses with that requirement, the better to accommodate D.C. and Massachusetts. The usual time limit on ex parte orders under the existing laws ranges from one to three weeks, with 14 days the most common choice (although ex parte orders can last up to 45 days in Delaware and up to six months in Maryland if they are extended). Nadler's limit is 30 days.

More than three-quarters of existing red flag laws require "clear and convincing evidence" for a final order. Nadler's bill says the weaker "preponderance of the evidence" standard is fine, so D.C., Hawaii, Massachusetts, and New Jersey needn't worry about missing out on federal money. Even among those looser jurisdictions, all but Massachusetts require a "significant" danger, which is hard to define but is at least more than any danger at all, the standard set by Nadler's bill.

Finally, Nadler's bill imposes no limit at all on the length of final orders, which under existing laws generally last a year (although they can be renewed in most of the states for another year). The two exceptions are Indiana and New Jersey, where gun confiscation orders last until the respondent files a petition and persuades a judge that he does not pose a danger to himself or others. Under Nadler's bill, that's fine too.
So, not only are anti-gun nutcases in the House able to put forth national red flag laws, but there is support in the Senate from supposedly pro-gun Republican politicians like Lindsey Graham (R-SC) and Marco Rubio (R-FL).
These red flag bills need to be crushed and never come back. Contact your Congressional representatives in both the House and the Senate and tell them clearly that you want no red flag laws and no gun control laws at all. Period. End of story.