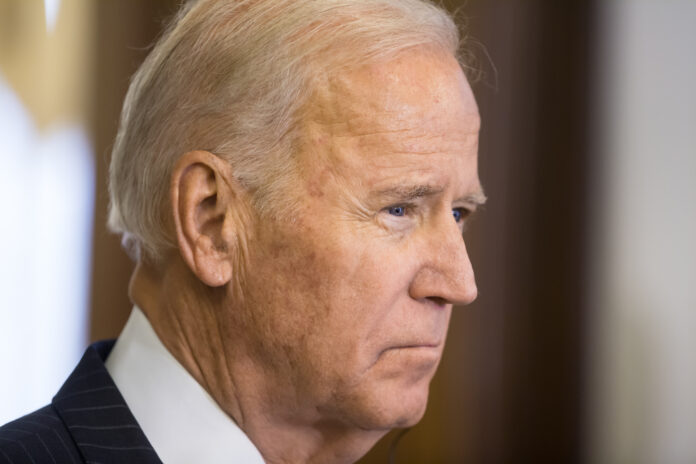 You knew that this was coming. With Biden's joining forces with Beto "Hell, yes, we'll take your AR-15, Your AK-47" O'Rourke during the 2020 Presidential campaign (see here for more about that), it was obvious that Joe Biden intended to be the most anti-gun, most anti-Second Amendment Presidential candidate from a major party in U.S. history.
Now, that he's in office, he's trying to make good on those promises to strip Americans of their gun rights.
A first step from him is to go after ghost guns. In case you're not familiar with ghost guns, they are guns that can legally be kept off of the government's radar unlike gun purchases from a firearms retailer, and anti-gunners like Biden can't stand the idea that they can't control some part of your life. Zachary Stieber writes,
Biden is directing the Department of Justice to, within 30 days, issue a proposed rule aimed at curbing the spread of so-called ghost guns, or guns that are made from build-it-yourself kits.

The department will also in the next two months issue a proposed rule declaring a stabilizing brace that turns a pistol into a short-barreled rifle and publish model "red flag" legislation for states.

Red flag laws let family members or law enforcement ask a court to bar people from owning guns if the people allegedly present a danger to themselves or others.

Three other actions announced Wednesday by the administration are: investment in "community violence interventions" that is meant to curb the spike in murders and shootings seen last year; starting the issuance of an annual report on firearms trafficking; and the nomination of David Chipman, a former adviser to the gun control advocacy group Everytown for Gun Safety and a current adviser at Giffords, an organization that says it works to stop gun violence, as the director of the Bureau of Alcohol, Tobacco, and Firearms (ATF).
All of that is intrusive enough and is absolutely horrible for gun rights in America, but, apparently, these folks are just getting started. Jack Phillips writes,
"The president is not going to wait for Congress to act to take additional executive actions—this is the beginning," White House press secretary Jen Psaki told reporters after Biden's speech at the White House on Thursday. "He will continue to have his team review, both from a policy and a legal standpoint, additional executive actions that are possible to take."

Psaki said Biden will still attempt to push Congress to create "long-term measures," without elaborating on what regulations he might seek.

"But he's not going to wait," she added. "He can move on both levers at the same time."
Yes, it looks like Biden and company are looking to go whole hog into stripping Americans of their gun rights.
That's not to say that there isn't things that Americans can do to keep their rights such as nullification of Federal gun control laws on the local level. The Federal level is looking pretty ugly right now, though, so you'd better get ready for the storm.