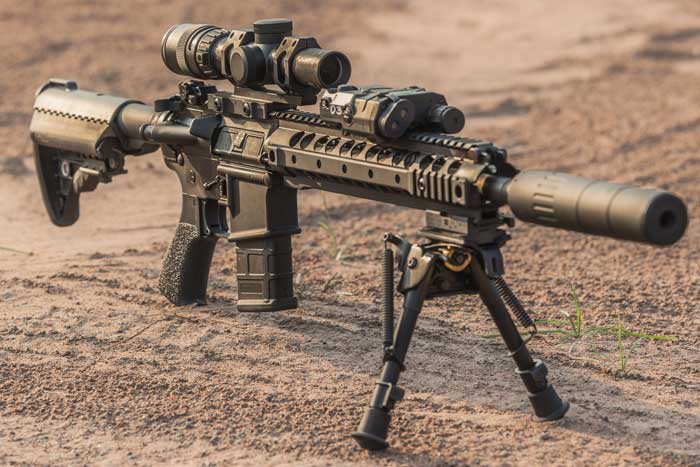 One of the biggest benefits of the AR-15 is also one of the biggest downfalls …
It's so versatile and there are so many options!
You can choose barrel lengths, optics, handguards, grips, triggers, gas systems, and on and on and on it goes …
A theme we've explored here before is the "1 rifle for everything concept". I think this is it.
Is This The ULTIMATE AR-15?
In the video below, "Garand Thumb" describes his Recce Rifle setup.
Now, keep in mind, I don't think that Garand Thumb's personal rifle setup is THE ultimate setup.
But, I do think the "idea" is the ULTIMATE setup for the AR-15 because it gives you so much versatility.
Like he says, you can do everything from CQB type room clearing/home defense to taking shots at 500+ yards with a setup like this.
I think that's ideal.
With that said, from the video, here are the specs I got …
Garand Thumb Recce Rifle Setup:
* 14.5″ BCM 1/7 Barrel
* BCM Alpha KMR Lightweight Keymod Rail
* Magpul Mbus BUIS
* BCM Kinesthetic Angled Grip (KAG) when using NOD stuff
* Streamlight Protac Light
* Arisake Mount for light
* Steiner M5Xi 1-5×24
* Bobro scrope mount
* BCM charging handle
* B5 Systems Stock with storage
* Frank Proctor Way of The Gun Sling
More On The "1 Rifle For Everything" Concept
In the past we've talked about a similar setup.
Check out How To Have One AR-15 For Everything From 0-600yds for more info on how Frank Proctor, US Special Forces vet and USPSA Grandmaster shooter sets his up (you'll see a lot of similarities).
You can also see How Special Operations Soldiers Setup Their AR-15's for another active duty guy who gradually modified his rifle over multiple deployments until he had what is basically a very similar setup.
What do you think? Do you setup your AR-15 for various uses or do you have multiple ones that each have a specific role?