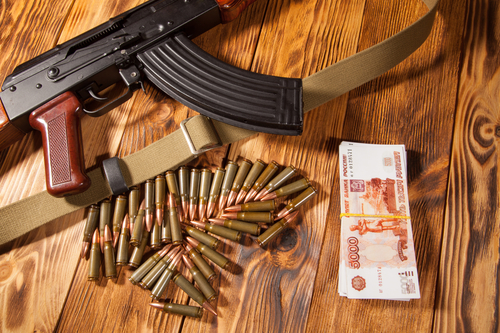 If you were to believe the mass media, then you would think that the ability of common, everyday criminals to obtain guns on the black market is because law abiding gun owners are (at best) careless and "misplace" their weapons into the hands of a criminal or (at worst) are knowingly selling their weapons to criminals.
They couldn't be more wrong. Possibly the biggest sellers of weapons to criminals (or contributors to them, if you're referring to the Fast and Furious gun scandal) are government and government-related organizations. Alan J. Chwick and Joanne D. Eisen write,
For decades now, the UN has lectured the globe, and specifically U.S. civilian firearms possessors, about the peaceful world order, that would magically occur, only after arms were entirely controlled from manufacture to destruction.

Individuals and nations alike were scolded, and blamed, for the existence of world, and local, violence. We were told, over and over, that the violence was caused by our failure to control the presence of feverishly propagating weapons.

Gun owners were lectured that it was our moral duty to agree with the UN and to disarm quickly. We were additionally scolded and advised that our weapons were diverted into the Black Market because we owned too many, or because we owned any at all.

Gun control proponent Allison Pytlak explains that a benefit of the 'new' ATT would be, "the closing of legal loopholes to prevent diversion of arms to illicit markets … stopping diversion should result in fewer arms finding their ways to militias, criminal, and terrorists." Though Pytlak argues this nicely, the fact that U.S. citizens privately hold approximately 320 million firearms, that rarely enter the Black Market arena, seems to eludes her thought process.

Behind all the pompous critiques, was the knowledge that they could not control their weapons, let alone ours. UN peacekeepers themselves are/were fueling the local Black Markets with firearms diverted from UN stockpiles. This is an important point that is rarely brought to light.
So, what you have is the United Nations trying to blame law abiding American citizens (in particular) for a massive number of guns on the black market, yet black market guns almost never come from law abiding citizens.
However, they do commonly come from governments and governmental organizations like the U.N. So, the U.N. should clean up it's own act before trying to tell us how to "fix" the nonexistent problems (guns on the black market from law abiding citizens) that they blame on us.