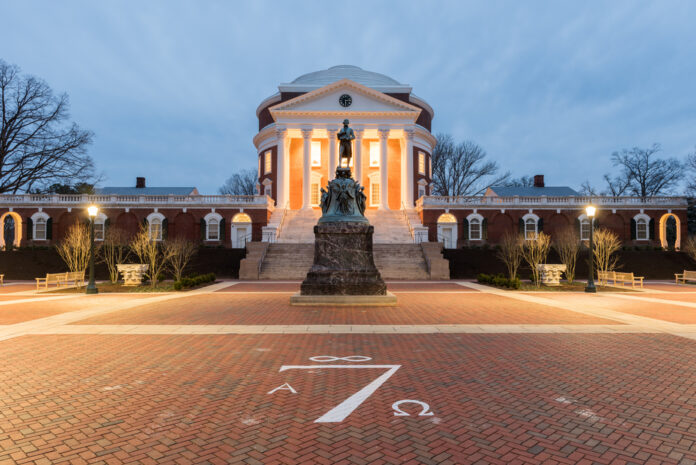 College campuses in this day and age seem to all too often be places of mind numbing leftist conformity instead of places where thoughts and ideas can be objectively analyzed and discussed. And, typically, when subjects are discussed, only one viewpoint is allowed.
But that didn't stop some students at the University of Virginia from weighing in on the gun control issue in a way that is likely to aggravate some of their professors. The staff at The College Fix give us the details:
The University of Virginia's Beta Bridge has played host to student messages for some 50 years. Most recently, the bridge featured the mural "PROTECT BLACK TRANS WOMEN," but this was painted over during the weekend with a pro-Second Amendment slogan.

According to The Cavalier Daily, the terms "2A" and "GUNS" were painted, while "WOMEN" was crossed out. The original message, put up by the SABLE Society, was repainted, but was again modified with the pro-gun terms.

The report notes the gun message appears to reference various Virginia towns threatening to become Second Amendment "sanctuaries" if the newly Democrat-controlled state legislature follows through with (allegedly) unconstitutional firearm restrictions.

It is not yet known who is responsible for the pro-gun message.

UVA spokesman Brian Coy said that although the bridge "is a long recognized public forum that may on occasion cause controversy or disagreement," the university acknowledges "that people, particularly black trans women, feel demeaned or threatened by this message and the way it appeared."

Coy added that university resources are available to those "impacted by the incident," such as Counseling and Psychological Services, the LGBTQ Center, and the Office for Equal Opportunity and Civil Rights' Gender Diversity Resources.
Of course, students quoted felt that the pro-Second Amendment update to the bridge was a "hate message."
When you hear this, you have to ask, "Really? Just because it changed the focus of attention on the bridge to a gun issue?"
With no disrespect intended towards people offended by the update of this bridge's message to be pro-gun: maybe they should ask themselves at what point it's okay to talk about issues that are important to other people in stead of just focusing on themselves? Issues such as the way the newly elected Democratic majority in Virginia's state government has made it clear that they intend to run roughshod over gun rights. It's not like someone isn't likely to paint over this sign tomorrow anyway (which appears to be common on that particular bridge).
But in the minds of too many people, gun rights are not real rights deserving of attention, and those going into state office in Virginia think that. Which is exactly why we're seeing a #VAGunRightsRebellion right now.